Are you looking for some fun Mardi Gras wreaths to kick off the festivities? Look no further, this post has the wreath for you!
Mardi Gras is such a fun and vibrant celebration that brings people together. Whether you're in New Orleans or celebrating from a far, it's a great occasion to decorate for!
There are so many easy ways you can bring the festivities to your home. The fastest is by adding a wreath to your front door!
There are so many green, gold and purple wreaths out there that bring in the Mardi Gras spirit. If you're not into the classic color scheme, we also added in some unique variations.
Below you will 50+ Mardi Gras wreaths that are perfect for your home! All of these wreaths are great quality! A lot of them do however sell out fast so if you see one you like make sure you jump on it!
As always, feel free to pin any of the images below to Pinterest if you have any favourites!
The Best Mardi Gras Wreaths That Add Some Sparkle To Your Door!
1) Sparkle Fleur de lis
2) Beads, Ribbons and Masks
3) Masquerade Mask
4) Long Door Swag
Click to shop the door hanger here
5) Deco Mesh Wreath
6) Happy Mardi Gras
7) Festive
8) Gold on Gold
9) Festive Ribbons
10) Perfect Mardi Gras Wreath
11) Cute Fleur de Lis
12) Glitter Wreath
13) Mask Wreath
14) Mardi Gras!
15) Gold and Blacks
16) Jester Wreath
17) Musical Note Wreath
18) Whimsical Wreath
19) Gold, Purple and Green
20) Magnolia Wreath
21) Sparkle Fleur de Lis
22) Hearts on Hearts
23) Grapevine Mardi Gras Wreath
24) Mardi Gras Wreath Sash
25) Festive Sparkles
26) Twisted Bead Wreath
27) Black and Gold Mask
28) Sparkly
29) Feather Touches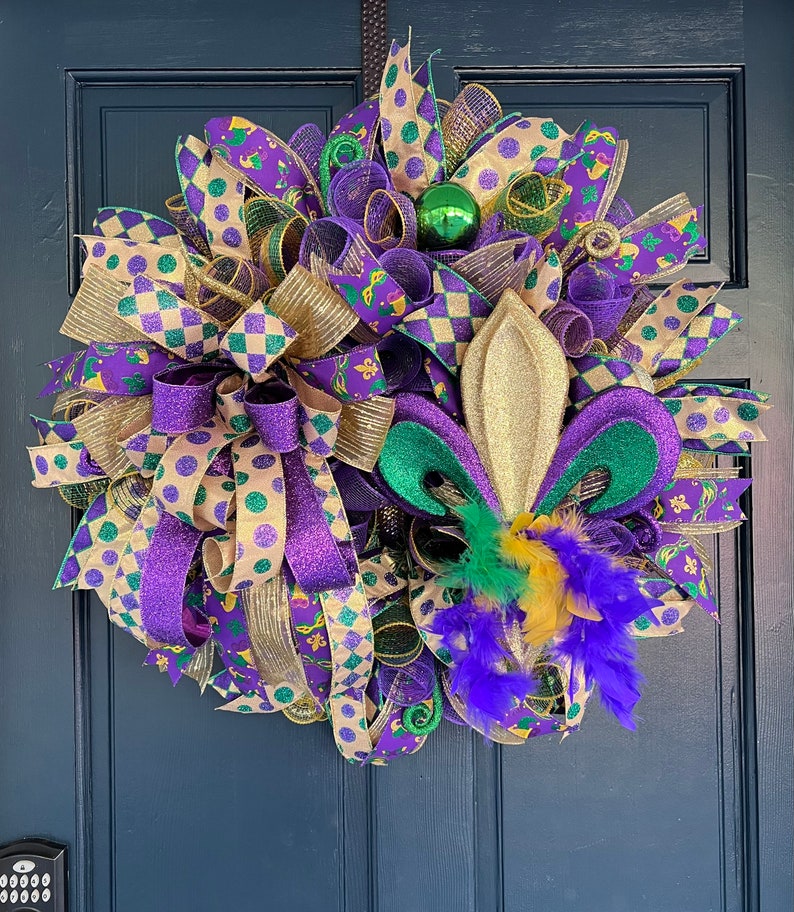 30) Top Hat Wreath
31) Whimsical Jester Wreath
32) Large Door Hanger
33) Glitter & Beads
34) Leopard touches
35) Green Grapevine Wreath
36) Music Wreath
37) Ribbon Streamer Wreath
38) Floral Mardi Gras Wreath
39) Happy Mardi Gras Y'all
40) Fat Tuesday
41) Bring on the bead
42) Welcome Wreath
43) Mardi Gras Explosion
44) Carnival Decor
45) Ribbons and Polka Dots
46) Welcome Sparkles
47) It's Carnival Time Door Hanger
Click to shop the door hanger here
48) Long Door Wreath
49) Alligator Wreath
50) Fleur de Lis Door Hanger
Click to shop the door hanger here
51) Bourbon Street Wreath
We hope you enjoyed all of these fun Mardi Gras wreaths! They're an easy way to add some sparkle to your door!
Read these next!
50+ Valentines Outfits You Should Try This Year!