If you're looking for a new high-quality handbag but don't know where to start, you've come to the right place!
We've crafted a comprehensive luxury handbag brands list to help you with that decision. With that said, if you're looking for something nice that steers away from hefty price tags, this list also has some affordable options for you.
Purchasing a designer handbag can be one of the most significant fashion investments a woman or man will make. Although these can be expensive bags, they make for a timeless, trendy, and incredibly versatile accessory. Handbags create a unique fashion statement in anyone's closet.
Additionally, the options out there are endless, from mini bags to tote bags and from signature pieces to runaway designs. With so many brands and styles to choose from, it can be overwhelming.
Buying a luxury item can be a pretty ambitious decision for most people. Keep in mind, though, that a good designer bag crafted with premium quality leather can last years if properly cared for. There is also a large re-sale market for luxury goods, that continues to grow.
Whatever the occasion is for you to buy a new bag, this list should provide some insights to help you spend your bucks on something you'll genuinely love.
A Complete Luxury Handbag Brands List!
Louis Vuitton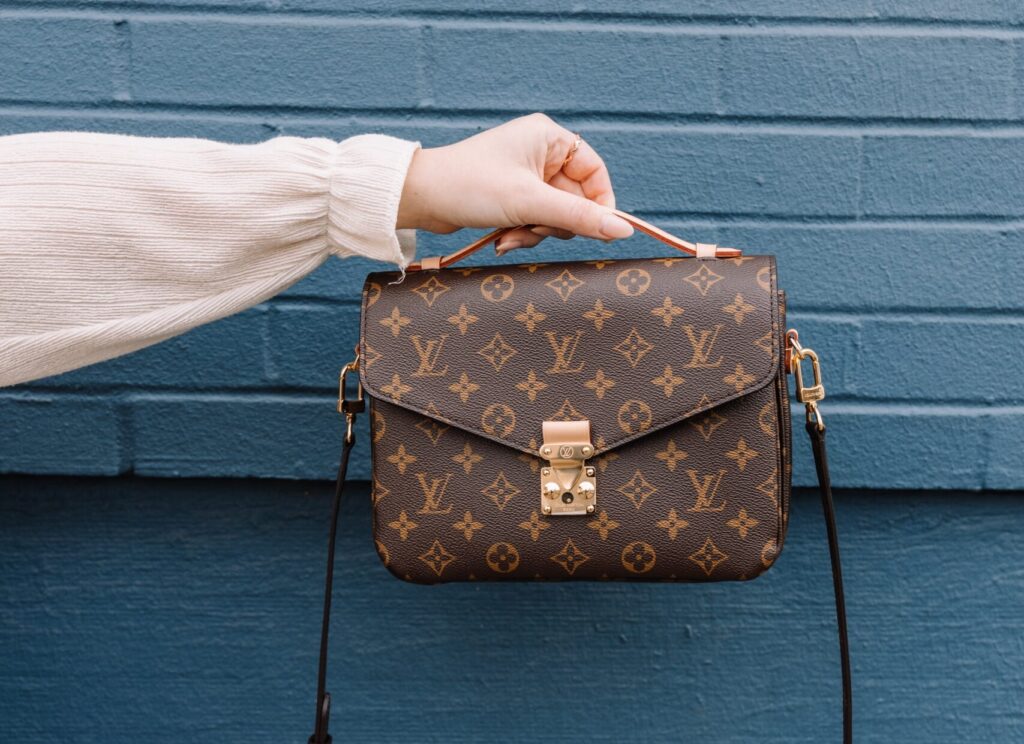 To kick off the handbag brands list we have Louis Vuitton. Iconic and always trending, a Louis Vuitton handbag can elevate any look.
Famous for its high-quality leather goods, Louis Vuitton bags are made with exotic animal skins, leather, and coated canvas. They are finished with the recognizable 'LV' and seem to stand the test of time.
Louis Vuitton is one of the most expensive handbag brands across the globe with a starting price around $1,000.
Yves Saint Laurent

Our favourite YSL bags
Crafted with top-of-the-line materials, craftsmanship, and attention to detail, Yves Saint Laurent's (YSL) handbags can elevate your outfit with unprecedented luxury and fashion authority.
The brand name and edgy style stand out in the handbag industry, which appeals to many celebrities including Angelina Jolie and Nicole Kidman. YSL makes handbags that are perfect for both day-to-day use or special occasions.
Coco Chanel
Known as one of the best and high-quality handbags brands out there, Chanel's beautifully-crafted bags are made with high-quality leather materials. If properly cared for, a Chanel bag can last decades.
Chanel handbags are timeless and one of the most sought-after bags by fashion lovers. In 1955, the French luxury fashion house launched one of the most popular handbags to this day, the shoulder strap Chanel 2.55. With retail stores across the globe, Chanel has expanded past the red carpet and has become a household name.
Christian Dior
Looking for a touch of pure elegance in your outfit? Christian Dior handbags are feminine, crafted with durable, and add some sense of sophistication. The house classic Lady Dior handbag, introduced in 1995, was one of Princess Diana's favourite bags. The iconic bag is still one of the most famous handbags today—the perfect choice for any special occasion.
Kate Spade

Our favourite Kate Spade bags
If your style is more feminine and classic, Kate Spade's handbags might be the right option for you.
This brand is known for its colorful designs and top-quality craftsmanship. Additionally, items are sold at a more affordable price when compared to other fashion household names. Kate Spade provides an excellent opportunity to get that designer handbag at the better price point!
Marc Jacobs

Our favourite Marc Jacobs bags
Marc Jacobs handbags are compact and stunningly stylish. Made with bright colors and a bold logo they stand out in a crowd.
Marc Jacobs is a valuable brand of handbags with affordable prices that will go well with most outfits. If you're looking for something a bit more exotic, Marc Jacobs's Carolyn crocodile handbag would be a good choice. That bag is one of the most exclusive and popular bags of the designer at an estimated price of $50,000.
Valentino

Our favourite Valentino bags
Founded by Valentino Garavani, the Italian brand is recognized for its high-end handbags that are perfect for your next upscale event or fancy outing. Valentino handbags are known for their craftsmanship with signature finishes and unique textures. With the proper care, these bags will last you a lifetime.
Bottega Veneta

Our favourite Bottega Veneta bags
The intrecciato weaving technique from Bottega Venetta handbags makes for a truly iconic bag. This style is hard to miss, due to the craftsmanship. They're known for their signature leather bags that have quality and precision that is hard to replicate.
Chloé

Our favourite Chloé Bags
Romantic and chic in style, Chloé purses will make your outfit more feminine and elegant.
Chloé's handbags have a signature leather feel that is soft and flexible. The bags are also famous for their soft pastel shades that elevate the look with romantic flair.
Chloé caters to many different tastes, making it easy for you to find a handbag that matches your style.
Givenchy

Our favourite Givenchy bags
These handbags are perfect for women of any age. Givenchy handbags are famous for their dark, romantic, and edgy aesthetic.
Easily identified by its logo, Givenchy handbags are beautifully structured and durable. They will give your outfit a ton of personality.
Gucci
One of the most popular luxury brands in 2021, Gucci handbags are as trendy as ever. The bags range from a flawless and elegant design to unique and full of jewels. They are always full of sophistication. Gucci handbags are the perfect versatile fashion item you need in your wardrobe.
The perfect way to turn your outfit into a high fashion statement is with a Gucci handbag!
Fendi

Our favourite Fendi bags
Recognizable by its FF monogram, Fendi luxury handbags are sophisticated and romantic. If you're looking for an elegant but creative look, Fendi's fashionable handbags will take you there. Crafted with exquisite leather, Fendi is famous for its easily recognizable "baguette"​ handbags.
Dolce & Gabbana

Our favourite Dolce & Gabbana bags
Bring some Sicilian culture into your wardrobe or inject a touch of drama and decadence with a Dolce & Gabbana handbag. Famous for its D and G monogram, the brand carefully crafts handbags that cater to various tastes and styles.
Balenciaga

Our favourite Balenciaga bags
The ideal handbag if you're looking to model neoclassic street style right.
Founded by Cristobal Balenciaga, the fashion house's bags are simple and a bit abstract in their designs. Yet, they are extraordinary due to the fact that each handbag is hand-sewn.
Additionally, these designer bags are incredibly durable and well-regarded amongst luxury fashion brands.
Salvatore Ferragamo

Our favourite Ferragamo bags
Looking for a fashionable handbag that will fit any occasion? Salvatore Ferragamo handbags are the answer!
These handbags are creative, brilliantly constructed. They are designed with high-quality genuine leather, canvas, and other materials for the high-end market. Famous for its appearance at Milan Fashion Week, Ferragamo brings the sophistication of the fashion capital to your next outfit.
Alexander Mcqueen

Our favourite Alexander Mcqueen bags
Flawless craftsmanship with impeccable finish and clean lines is a good way to define Alexander McQueen's handbags.
Although the brand mainly recognizable for its skull elements, Alexander McQueen bags are incredibly versatile. With a mix of gothic, classic, and minimal styles. They are an essential item in the closet of any person who loves fashion.
Micheal Kors

Our favourite Micheal Kors bags
Founded by the namesake Michael Kors, the brand produces trendy, beautiful, and practical handbags for any outfit.
Easily recognizable by its MK logo, the handbags combine designer quality with everyday appeal. Crafted with rich leather, sumptuous suede, and other high-quality materials, Michael Kors is timeless and embodies both runway and ready-to-wear trends.
Ted Baker

Our favourite Ted Baker bags
Perfect for turning an everyday outfit into a fashionably trendy one, Ted Baker handbags are d
urable and of high quality. They won't show wear and tear, even after years of use. Fairly affordable and chic-looking, these bags make the perfect accessory for every day wear.
Longchamp

Our favourite Longchamp bags
The French luxury brand is almost 100 years old and is still popular amongst modern fashionistas. Longchamp handbags are lightweight, classic, and come in various styles and colors.
Their unique design, affordability, and versatility are some of the reasons teens and young adults choose these high-quality bags as their first designer purchase. The Longchamp handbags look fashionable for work, lunch dates, or a simple walk around the town.
Hermès
The handbags brands list wouldn't be complete without Hermès. Boasting some of the most expensive handbags in the world, Hermès is a luxury brand for the super-wealthy.
Famous for its highly exclusive, signature Hermès Birkin bag, Hermès combines high fashion, functionality, and premium materials. If you're looking for an ultra-exclusive handbag like the matte crocodile Birkin bag, expect to pay over $100,000.
Tory Burch

Our favourite Tory Burch bags
Classic and romantic, Tory Burch handbags will enhance your outfit's femininity, playfulness, and style.
The Ella Tote Bag is one of the most popular Tory Burch bags on the market. Even though her handbags are trendy, they're also moderately priced, similar to Kate Spade.
Good quality and fairly durable, these bags can last years if properly cared for.
Céline
Céline handbags are one of those fashion items that you can't help but love. These bags are cute, timeless, and worth their price. The French brand specializes in ready-to-wear leather luxury goods since it was founded in 1945 by Céline Vipiana.
Their handbags are minimal, modern, and have an impeccable design. They are often compared to Coco Chanel, however are seen to have more durability and value.
Balmain

Our favourite Balmain bags
Balmain's handbags are luxurious and innovative. These bags are ideal for women who want a fashion item that will stand out in the crowd. Balmain's fashion items are always looking to push the fashion world to new heights and make bold statements with their craftsmanship and design.
Off-White
The popular black and white stripes are among the most distinguished designs from the Off-White brand.
Off-White handbags offer the perfect combination between the world of streetwear and high-fashion designers. Edgy and with a slight gothic touch, these handbags make any outfit more fun and interesting.
Prada
Couldn't create a luxury handbag brands list without Prada. The almost 100-year old brand is a luxury fashion house founded by Mario Prada, with an estimated net worth today of US$4.8 billion.
Prada specializes in handbags that are known for being modern and elegant. The bags' versatility suits both casual or business outfits, making them a great accessory.
One of Kate Winslet's favourite handbag brands, the actress can be seen around New York wearing her many Prada bags. From the iconic leather messenger bag to the new tote nylon bag.
Coach

Our favourite Coach picks
The ideal luxury handbag to go with your everyday or work look. Coach handbags are famous for their high-quality leather and fine details. After a complete rebranding, Coach's fashion captured people's hearts again in 2021.
The handbag prices range from affordable to expensive designs. Coach is also a great brand if you're looking for an everyday bag.
Phillip Lim

Our favourite Phillip Lim
The brand was founded by the American designer Phillip Lim and is well-positioned in the accessible luxury category. Phillip Lim handbags are modern with vibrant graphic patterns while having a high-end look.
The brand seeks to approach fashion more sustainably. Their focus is to provide pieces that can be worn for years, instead of seasonally.
Stella Mccartney

Our favourite Stella Bags
If sustainability and animal welfare are some of your top values, then Stella Mccartney's handbags are the right choice for you! As a lifelong vegetarian, the designer claims she has never used leather or other animal materials in her bags.
Instead, Stella Mccartney's handbags exult confidence and sexy femininity. So, in conclusion, if you're looking for the perfect fashion item to embrace your eco-friendly values, this brand has the right handbags for you.
Fossil
Classic, practical, and designed in a wide range of colors, Fossil handbags keep you fashionable wherever you go!
Made with environmentally sourced leather, Fossil handbags are durable and of great quality. Additionally, the brand is relatively inexpensive, which is a great option if you're looking to invest in your first designer handbag!
Loewe

Our Loewe Favourites
Finally, the last in the handbag brands list is Loewe. Located in Madrid, Spain, Loewe is simply one of the top luxury houses in the world. So having a Loewe handbag is a treat.
All bags are entirely handmade with precisely-cut pieces of premium leather and impeccable attention to detail. The highly-exclusive brand recently opened a store at the Woodbury Outlet mall in New York. Making their bags more accessible.
Loewe handbags are classic, modern, and exult luxury. An excellent choice for a more elegant occasion.
Did you get excited about any of these brands in this luxury handbag brands list? Hopefully, this list has provided you with handbag options that have the perfect price point and resonate with your values and style.
If you're looking for an investment piece, hopefully, this list contains some options for the perfect bag! They are all sure to make a fashionable statement in your wardrobe.
Read these next!
We hope you enjoyed this complete luxury handbag brands list! Want more content? Read these next!
50+ Fun St Patricks Day Wreaths To Add Some Luck To Your Home!
25+ St Patricks Day Charcuterie Boards Everyone Will Love!
Sign up for my weekly newsletter!
Want fashion/beauty tips and tricks like the luxury handbag brands list? Sign up for my newsletter here!