We all strive for beautiful nails, whether you're heading into the salon or doing them at home, there are so many ways to get a great manicure. With that said, there are so many types of manicures out there to choose from! For example, you can opt for gel nails vs SNS, acrylic, acrylic tips, etc, which can get confusing!
When you get a manicure, it's expected to hold up against the elements while still being cute and stylish. Gel manicures have been around for a long time and are a tried-and-true method when wanting to achieve those perfect claws.
Recently, however, signature nail systems are better known as SNS (aka. Dip powder nails) are taking over the nail industry and are becoming a more popular method among nail technicians and nail enthusiasts alike.
Below were diving into the world of manicures, explaining both methods and providing our recommendation on whether you should go with gel or dip powder nails. It's always a good idea to understand what sort of manicure will be best for your nails!
What are Gel Nails
Not all nails are created equal. If you are concerned about your nail health, then Gel is considered a healthier alternative when compared to an SNS manicure.
When you receive a gel manicure your nail technician will first remove any leftover normal polish with cotton balls to get to your natural nails.
Next, they'll apply cuticle oil (vitamin e oil) and will then continue to apply a base coat, two coats of your chosen color than your final topcoat. To set the nails, the technician will put them under a UV lamp.
How long do they last
One of the more popular gel nail polish brands is Shellac. It's a hard gel that typically lasts up to 2 weeks. It also helps keep the integrity of your nails, by creating a hard layer so your nails can't break. If however, you notice that your nails are breaking before two weeks they might be weak and need some time off from the nail treatments.
How to remove Gel
I think we've all been there, you convince yourself you can peel off your manicure and end up taking off the top layer of your nail. It's safe to say this is not a safe and more importantly painless way to get your gel nail polish off. We recommend either heading back into the salon to have it removed or soaking your nails in acetone. It will take some time and effort however you won't damage your nails this way.
Pro Tip: If you're looking for a simple manicure, ask for a "polish change". These are cheaper and consist of the technician taking off your old polish, shaping your nails, and then applying new polish. You'll save money and also have your polish removed pain-free.
What are SNS Nails
If you're after a more durable manicure (like super glue!) that lasts a long time, then SNS, a brand of dip powder, is a great option! SNS consists of acrylic ester polymer which gives it that durability and long wear.
The SNS application process consists of applying a base and primer coat of polish to your nails. Your technician will then dip your nails into the powder. Your nails will get two coats and any excess powder will be brushed away. A topcoat is then applied to complete the manicure.
SNS can also be applied to artificial nails like acrylic tips, which gives you some options when it comes to your dip manicures!
How long do they last
SNS nails can last up to a month which is an incredibly long time. Typically you would get SNS if you want long wear like this.
How to remove SNS
Similar to Gel, SNS can be removed by soaking your nails in acetone, however, it might take a bit more time to come off compared to gel. Alternatively, you can head to your salon to have it removed.
Things to consider before your next manicure
Whenever you get your nails done at a salon you need to make sure the correct safety protocols are used. The main red flags are around the sanitation process. You always want to make sure that all tools are used during your manicure and clean.
Another thing to consider is bringing your own gel polish and or dip powder. Nail salons typically use the same polish and powder on all of their clients which can lead to infection.
Gel Nails vs SNS
It's hard to compare Gel Nails vs SNS. Both types of manicures are going to give you beautiful nails, they also don't take much time to complete either.
If you're going for a manicure that is isn't damaging and lasts 2-3 weeks then Gel is a great option. Whereas if you're looking for more durability then SNS is the way to go.
If you're looking for something a bit more natural, a better option is regular nail polish or nail lacquer. It's an easy way to put a protective layer on your nails, that won't cause too much damage. It's also incredibly easy to remove and can be done at home, unlike Gel and SNS in certain cases.
Home Manicure
Both gel and SNS manicures can be done at home by purchasing a nail kit! I love doing my own nails. It lets me try out cool designs and is also a lot more cost-effective than going to the salon.
Here are our favorites (all of these kits have high reviews and have been tested):
Gel Manicure Kit
This is a fantastic gel starter kit that would also make for a great present! It has all the tools you need to do a manicure from start to finish in your home! This kit comes with:
48W UV Cure Lamp
7 Neutral Polishes
Nail Decals
Nail pruning tools
Topcoat and Base Coat
Nail brush & Duster
Having your own UV light is such a game-changer. You can try out so many different types of gel polishes to see what ones you like the best! You can also easily do your friend's nails at the next girls' night!
SNS Manicure Kit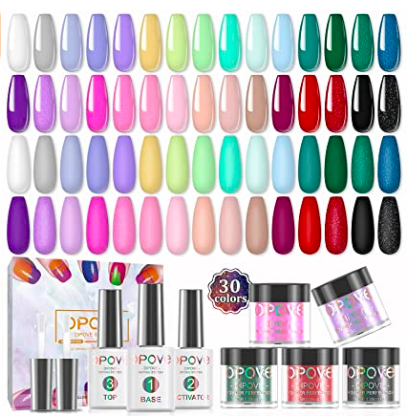 This is an awesome SNS starter kit! It comes with so many different colors you can experiment with, along with the base and topcoat. This kit includes:
30 Color Powders
Base Coat
Activator
Top Coat
Brushes
Both of these kits are great if you want to start doing more at-home nails yourself! They provide enough colors and tools to ensure that your manicure will turn out flawless every time! They are also awesome to take to a nail salon to ensure that your health and safety are maintained. I personally like to bring my own products so I know I'm not potentially being exposed to other bodily fluids (if they have a cut on their finger, it can easily be exposed to polish and powder).
More Nails!
We hope you learned a lot from this article and now know the differences between Gel nails vs SNS! If you'd like some nail inspiration for your next trip to the salon, head to our Nail Inspo page where you can find hundreds of cute designs! Some of our favorites by season include:
1) 50+ Winter Nails To Try Out This Season!
2) 50+ Pretty Spring Nail Designs You Need To Try!
3) 50+ Summer Nails To Give You Inspiration!
4) 50+ Stunning Fall Nails You Need To Try!
Planning a wedding? Looking for wedding inspiration? Head to our sister site Dream It Wedding and start pinning your favorites! Your dream wedding awaits.