Top things to do in Chicago!
Chicago is one of my favorite cities to visit! It's extremely similar to Toronto which might be why I love it so much! I recently spent three days in the city and wanted to put together a travel guide that summarizes the top things to do in Chicago! Hopefully, this post will make it easier when you're planning your next trip!
Where to stay
Hotels
Wyndham Grand Chicago – This is where we stayed. It's an older hotel so the rooms are huge. The design is a little dated but you cannot beat the location. All the tourist attractions were about a 5-minute walk away – couldn't get better than that!
Ivy Hotel – Great boutique hotel, modern design with a rooftop restaurant and bar!
Hotel Felix – Another boutique hotel with cheaper prices. Modern design and great location!
Air B&B
Air B&B is an amazing option. Places downtown start around $155 and go from there. I always like to check Air B&B first before looking at hotels because sometimes you can find some great deals!
Where to eat
Food is always a popular subject especially when traveling! There are some amazing places to eat in Chicago! Overall tip – make reservations at least a month beforehand! Many of these places fill up extremely fast, making it near impossible to get reservations. In addition, when in Chicago I highly recommend getting deep dish pizza! One of the girls in our group is highly lactose intolerant so we never went but I list some great spots below!
Breakfast/ Lunch
Featured above – Avocado Toast from LOKaL
Think college dive bar with amazing food and the following perks: bottomless champagne, red solo cups, hip hop, and an outdoor patio! LOKaL is a fun restaurant located in West Dupal, it's also the place to be if you're looking for a boozy brunch! My friends and I went there on Saturday and it was very BUSY (all the tables were full) I had the avocado toast (pictured above) and it was amazing. We also ordered the unlimited champagne which was great for a girl's trip! Make sure you make a reservation as tables fill up fast (brunch available Friday – Sunday)!
Featured above – Cold Lobster Roll Hampton Social
I've been wanting to check out Hampton Social for a long time because it's known for its cute interior and amazing seafood! They also have a Rose theme going on with half-price bottles on weekends. I got the lobster roll (served cold) and it was amazing. My friends got the eggs benedict which they said was also fantastic!
Other Notable Places to Eat brunch/lunch:
Dinner
Featured Above – Octopus A La Plancha, Purple Pig
One of the best meals I've had in a very very long time. Anything you order is going to be amazing. Many of their dishes are pork-based (hence the name) however I don't eat pork and I had no trouble ordering! I had the Octopus and man it was good! Tasted like butter. If you're making dinner plans make it a priority to go (prices are also reasonable)!
Other Notable Places to Eat Dinner:
Desserts
Drinks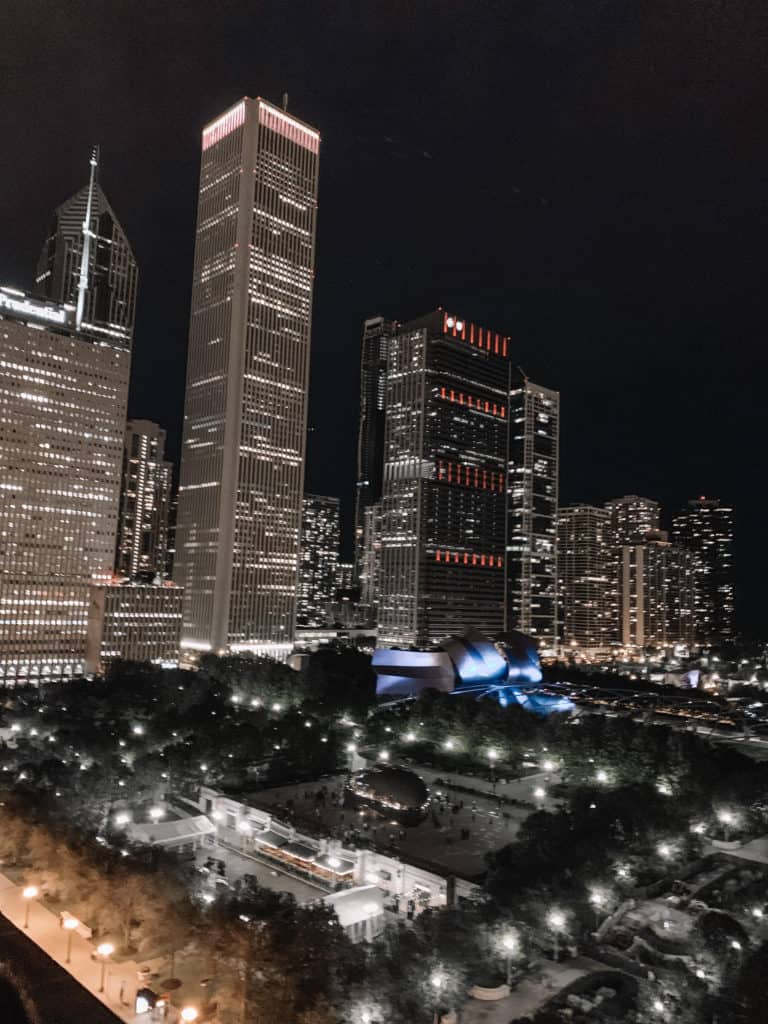 We headed to Cindy's Rooftop Bar on the last night in the city! It's a great location to watch the sunset and get great views of the city including the bean and Millenial park! Drinks are a little expensive (you're paying for the view) but it was totally worth it being up there for a little while!
11 Things to do in Chicago
There are so many things to do and see in the Windy City! Below is a list of top things to do in Chicago, especially if you're only there for the weekend and have limited time.
1) Architectural Boat Tour
When in Chicago you need to make it a priority to go on the architectural boat tour! To give some context, the Chicago River runs right through the city. After Chicago burnt down in 1871 the city had to rebuild. Over the next century, a lot of effort was placed on architecture. Given the lack of antiquity buildings due to the fire, modern architecture was the focus. Since the river runs throughout the downtown area, many of the buildings are situated directly on the water.
The boat tours on average, last between 60 – 90 minutes, During that time you will be given the history of Chicago and all of its buildings. Some buildings are incredibly beautiful and imaginative. I get it, architecture doesn't sound that cool, but the comic relief given by the tour guides and the beauty of some of these buildings make it well worth it!
Quick Tips
Night Tours – these are beautiful if you want to see the city lite up! However, depending on the season, it can be quite cold
Head down to the water's edge on East Wacker Drive and you will see tons of boat tours available – they're typically all VERY similar
Tours range from $30 – $50
There is typically no assigned seating so get there 20 minutes before the boat leaves if you want the front (there are no bad seats in the house though)
There are bathrooms onboard
There is typically food and drink available onboard
Tours usually run every half hour throughout the day until 5pm
You don't need to book in advance
This is the tour we went on and it was great! We had a funny tour guide, learned a lot of cool things about the city's history and it was fairly priced!
2) The Chicago Theater
Dress / Rust Boots / Necklace
Located on 175 N State St, The Chicago Theater is a great landmark to visit, take pictures and watch a show! Built-in 1921 The Chicago Theatre is beautiful inside and out!
Important to note – the interior tour runs once a day at 12pm. It lasts 60 minutes and its $18 a person.
Quick Tips
Book tickets in advance – especially for the interior tour (it runs once a day!)
If looking for a photo outside, go in the morning, there's less traffic and people
3) Willis Tower/ Skydeck
Rust Boots / Black Lace Sweater / Leggings / Black Bralette / Necklace / Bracelets 1 2 3
The Willis tour and Skydeck is a MUST DO while in Chicago. It's the best way to get amazing views of the city while conquering fears by sitting on the glass floor!
The Willis Tower, once known as the Sears Tower, was the world's tallest building until 1996. It got beat out by the Petronas Twin Towers in Malaysia. The Skydeck is located on the 103 floor. Once up there you can see 360 views of the city through all the windows. There are also 2 glass boxes that hang outside of the tower you can go into and take photos!
Quick Tips
Get into line then buy your tickets on your phone (trust me – it saves you waiting in another ticket line when you're there)
Go early – before 12pm is best
Once you're up on the Skydeck look around the perimeter, there are actually two lines. Most people stand in one and don't realize there's a shorter one
You only have about 1 minute per person on the glass floor so make it count
4) The Bean (aka. Cloud Gate)
Grey Boots / Jeans (Similar) / Confetti Sweater / Hat / Sunglasses
The iconic bean also known as Cloud Gate is a sculpture completely made out of stainless steel (which gives it that reflective property)! It was unveiled in 2004 along with the park it sits in (Millenial Park). One of the coolest parts of the bean is that you can see the reflection of the skyline in it! Created by Anish Kappor a London based artist, the bean was highly criticized at first, however now it's become a staple attraction in Chicago! Even if you're not a huge fan of the design, it's still fun to visit! The reflective qualities make it fun and challenging to take pictures with!
Quick Tips
Go as early as possible to avoid the crowds
Take a walk around Millenial Park afterward
Make sure you go under the bean to see a cool visual effect!
5) Navy Pier
A 1000m pier located on the Chicago shoreline, Navy Pier is a fun place to visit on a sunny day! Navy pier was built in 1916 has gone through some significant changes over the years. It's currently home to a Ferris wheel, tons of shops, restaurants, a merry go round and more. It's a fun place to walk down to. You can also get great views of the city!
Quick Tips
Main activities are for kids so plan accordingly (could be a quick stop as you carry on)
Great place for pictures of the Chicago skyline
6) RiverWalk
Cream Cami / Cardigan / Jeans (Similar) / Boots / Hat
The first free thing to do on this list! Walking along the river may not sound exciting but it's the perfect way to see the city! There are trails running along the majority of the river that you can walk along. Here and there you will find nice cafes and restaurants you can stop at for a bite to eat or a glass of wine! It's also not overly busy.
7) Take a trip on the L-Train (also known as the "metro")
Alright, this one is a little unconventional however parts of Chicago's "L" train (short for elevated) run above the city. The L consists of a variety of colored lines (e.g. red, Blue, Brown etc) that run throughout Chicago. Some lines run directly through downtown which is a cool way to see certain parts of the city!
Quick Tips
The Metro takes exact change so if you don't have it use a credit card
There's a ticket option to pay an extra .25 for an additional 2 rides – buy this option if your planning on seeing a couple of things
Be extremely careful and plan your trip – some areas of Chicago (like any city) can be dangerous and should be avoided
8) Bus tours
Bus tours are always a great way to see the city if you're tired of walking or want to cover many things in a short period of time!
Untouchable Tour – Reliving Chicago's Gangster Past
Ever want to learn about Chicago's gangster past? This tour is for you! The tour is run by actors that take on gangster personas. As the tour progresses, the actors explain what was going on in Chicago during the 20-30s (prohibition era). You will visit some landmarks that real gangsters visited during the times.
Quick Tips
This is a 2-hour tour so eat beforehand
Many poor reviews online are due to the bus having tinted windows in the past which have been fixed!
This tour is for Gangster lovers as you will be seeing unconventional stops (you won't see well-known landmarks)
Hop on, Hop Off (Big Bus Tours)
This is a classic bus tour. If you're an avid travellor you probably have heard of these. What I like best about Hop on Hop off is that they have SO MANY stops around the city. When I was walking throughout, I think I passed at least 10 which makes seeing the city a breeze expecially if your feet are hurting or if your traveling with someone whos needs assistance walking.
Quick Tips
You don't need to buy tickets in advance
Hop on and off an unlimited amount of times during the day
You can hop on at any stop! Therefore if you hop off and decide to walk a bit it's easy to find another stop somewhere else to get back on
The tour stops at all the major tourist spots
9) Goose Island – For the beer lovers
Goose Island is an island in the middle of the city. It's not man-made, it's been there for centuries, getting its name from all the birds that used to find refuge there. It was turned into its own neighborhood as the city expanded. Goose Island is easy to get to and hosts a variety of restaurants and breweries. If you're looking to sample some beer, this is the place to be!
Top breweries in the area:
Goose Island Brew House
Off Color Mouse Trap
10) The Art Institute of Chicago / Chicago Planetarium
Both are perfect for a rainy day!
The Art Institute – Holds a multitude of revolving exhibits, it's an easy place to get lost in for an afternoon. Tip: check the website before visiting to see if any exhibits pique your interest
Chicago Planetarium – Great place to learn more about space through their exhibits and watch some shows that take you into our galaxy! It's also kid-friendly.
11) The Magnificient Mile – Shop Till You Drop!
Another free thing to do while in Chicago! This is the commercial district in Chicago where all the best shopping is. It's also a great city walk if you're looking to get some steps in! Filled with great restaurants and some tourist spots along the way. If you're walking along stop to look at:
Chicago Water Tower
John Hancock Center
Tribune Tower
That summarizes my top things to do in Chicago, hope you guys enjoyed!
Until Next Time Chicago!
Suitcase / Rust Boots / Denim (Similar) / Cream Cami / Vegan Leather Jacket
SHOP MY LOOKS!

Want More Travel Articles? Read This Next!