Disclaimer: This blog post may contain affiliate links. If you click on one and make a purchase, I will make a small commission, at no extra cost to you. These are products I've personally used and stand behind, learn more.

Pickleball is currently America's fastest growing sport! Exploding in popularity during the pandemic, Pickleball has quickly become a go-to activity for those of all ages! That's why we wanted to round up the best gifts for Pickleball players so you have an easier time shopping for the big dill in your life.
What is Pickleball
Pickleball is a combination of tennis, table tennis, and badminton. Played on both indoor and outdoor badminton-sized courts with a modified net, this game can be played by all ages and in any climate! With that said, however, having the proper Pickleball gear is imperative to proper Pickleball gameplay.
That's why we wanted to round up the best Pickleball gift ideas for the holiday season or for a special occasion! This gift guide has everything from luxury gifts to stocking stuffers. No matter what your budget is, there's a gift in here for your loved one!
As always, feel free to bookmark this page to save it for later!
The best gifts for Pickleball players
Below we have rounded up our top Pickleball gift finds that can work for players of all ages! Pickleball is a great sport that can get all the family out and have fun!
Click to shop the Pickleball Machine here
If you have the budget to splurge, then a Pickleball Machine can be considered the ultimate gift. Lobster Sports sells both tennis machines and Pickleball machines and have quite a loyal following. Their machines are really highly rated and offer heavy top and backspin so you can practice and perfect your game!
Here are some of the top features offered on this Pickleball machine:
Heavy top spin and backspin
2-Line – the ball is delivered to two pre-set spots on the court
Holds 153 balls
Sends out balls at a speed of 10mph-60mph
Battery life: 6 – 8 Hours of court time
Click to shop the Pickleball Paddle set here
If you're looking for a starter gift for someone who is interested in learning Pickleball or someone who doesn't personally own any Pickleball gear than the Amazin' Aces Set is a great option!
This set comes with:
4 USAPA-Approved Pickleball Rackets
4 Pickleball Balls
2 Paddle Covers
1 Carry Bag
Pro Tip: When shopping for Pickleball rackets make sure they are USAPA-approved. This means that USA Pickleball has inspected the equipment and has deemed it appropriate for tournament play.
Click to shop the Pickleball bag here
If you have a Pickleball enthusiast in your life that loves to hit the court frequently, then a Pickleball bag is a wonderful gift. This helps them keep all of their gear in one spot so they don't forget anything at home!
This bag was designed largely to ensure that all of your accessories will fit! It comes with:
Adjustable shoulder strap
Water-resistant and scratch-resistant fabric
Mesh water bottle holder
Small soft compartment for keys and/or a cell phone
Click to shop the ball retriever here
If you're looking for an awesome stocking stuffer for the holiday season, then the ball retriever is the perfect option!
This ball retriever attaches to the end of your Pickleball paddle and easily suctions your ball up so you no longer have to bend over to retrieve it.
I personally find this to be a fantastic invention that can save time on the court!
5) For the Pickleball game organizer: Pickleball Net
Click to shop the Pickleball net here
If you're looking for a gift for a player that's always organizing the games, a Pickleball net will be much appreciated!
Pro Tip: Before purchasing a Pickleball net, make sure that it is the proper regulation size!
This net from A11N meets the official Pickleball guidelines by being 22′ wide, 36" high on the sidelines, and 34" tall at the center. It also includes the following features:
Easily assembly with no tools required
Very portable, can easily fit into a small 20lb bag
Can withstand weather
Click to shop the Pickleball court marker set here
Pickleball fanatics will play this sport anywhere, as long as they can create a court.
That's where court markers come in handy. These allow you to set up a court on any hard surface allowing for easier gameplay!
This kit includes:
4 L-style pieces and 8 T-Style pieces
Material can be cleaned after use and reused
Bright and easily identified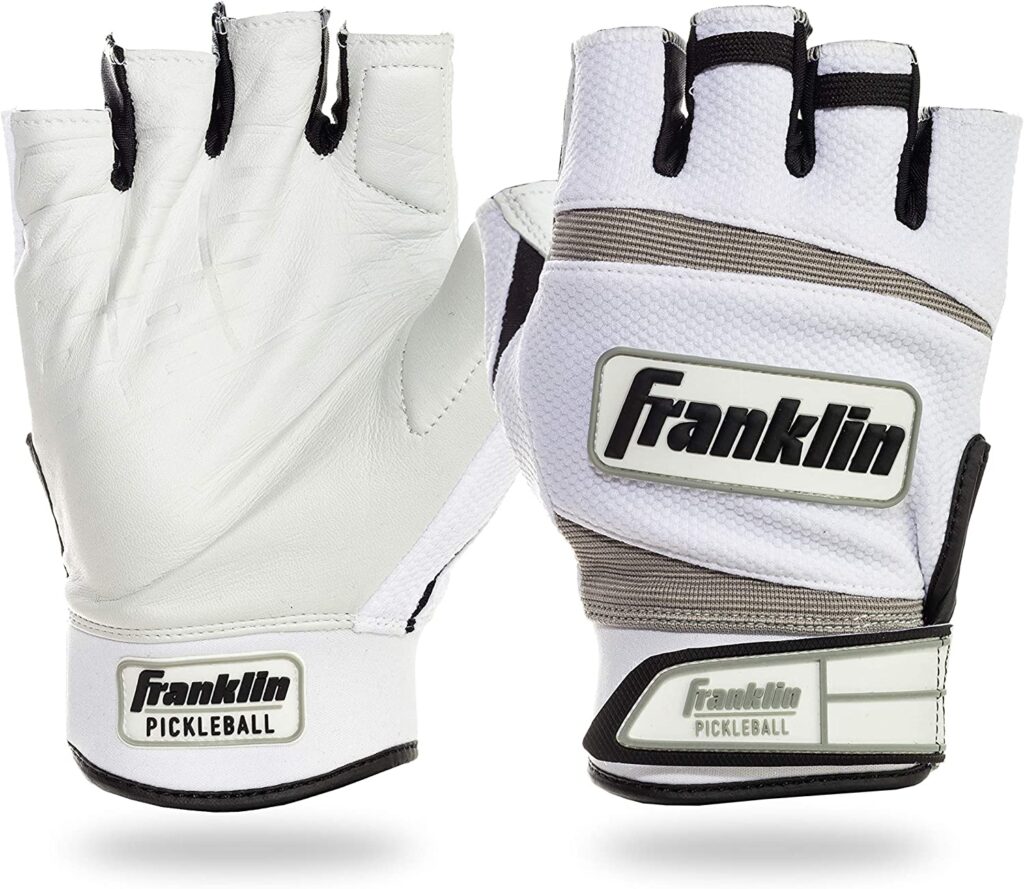 Click to shop the Pickleball gloves here
If you play Pickleball frequently, you do run the risk of getting blisters, similar to tennis players and golf enthusiasts. Therefore, using Pickleball gloves can help keep your hands smooth so you can continue to play pain-free. These are perfect for experienced players and novices a like.
The Franklin gloves use premier leather for strength and durability. They have an adjustable wrist strap for a snugger fit and come in sizes XS-XL.
8) For the "Professional" Player: Selkirk Paddle
Click to shop the Selkirk Amped Pickleball Paddle
The Skelkirk Amped Pickleball paddle is one of the best gifts for advanced players that can easily give them a competitive edge. It's made of fiberglass, and is incredibly lightweight. It's one of the best-performing Pickleball paddles on the market.
Here are some of the key features:
FiberFlex Fiberglass face generating great ball spin
X5 Honeycomb Core built for consistent speed
USAPA APPROVED

Click to shop the Pickleballs here
Having extra balls is always the perfect Pickleball gift for any avid player. Balls can get broken, lost, and damaged during gameplay, so it's always a good idea to have some extras on hand!
Click to shop the stainless steel water bottle here
Water bottles are always a great gift idea for any kind of athlete including a Pickleball player! This stainless steel water bottle is 32 ounces with a straw. It comes in a variety of colors and is insulated which will keep your drinks cold even in high heat.
Click to shop the Complete Guide to Pickleball Here
This is the perfect gift for new players it's a great way to get them into the sport. There are so many techniques and Pickleball rules involved in becoming an experienced Pickleball player and this book can help you learn them! Written by Coach Mo, who has years of experience teaching Pickleball, this book will help you master the sport!
No matter what your current skill level is, there are a ton of incredibly handy tips and tricks included in this book, especially when it comes to winning techniques!
The Best Funny Gifts
We had to add a funny gift section for the Pickleball players with a sense of humor. These are also great for secret Santa gifts (if you know who you are shopping for) due to the price points!
Click here to shop the wine tumbler
If you have a happy hour Pickleball player in your life, I'm sure they'll appreciate a Dink responsibly wine tumbler that's easily portable and can be used on and off the court!
Click to shop the novelty socks here
These socks are one of my favorite finds on this list! They are so perfect for Pickleball lovers that want to show off some flair! Everyone needs good socks in their life and these are hilarious to play in!
Click to shop the Pickleball shirt here
This Pickleball T-shirt is a great gift for an individual player or a whole team! It comes in a variety of colors and sizes making it a cool gift for multiple players!
Click to shop the headband and arm set here
If you're playing Pickleball in the heat, having a headband and armband set can really help you out! This gift would be perfect for those playing during those hot summer days that need some extra sweat protection!
Click to shop the license plate cover here
This is a hilarious gift for Pickleball fans with a car or even a golf cart! This license plate holder is made of embossed stainless steel and therefore won't fade or deteriorate no matter what climate you're in. It fits a standard US license plate.
Click to shop the Pickleball towel here
Every Pickleball player needs a good towel, especially if they're playing in the heat! Why not get them one with a little humor!
Click to shop the Pickleball Mug Here
If you're looking for an affordable and funny gift, this coffee mug is sure to get some laughs! Perfect for a year-round gift for someone who loves winning at Pickleball.
We hope you loved all of our hand-picked choices for the best gifts for Pickleball players. Pickleball can be an intense sport, and having some gear can make you feel like a professional player!
Whether you're shopping for a beginner or a professional dinker, there are some great gifts out there that are sure to please!
As always, feel free to bookmark this page to save for later!
Read these next!
Loved these best gifts for pickleball players? Check out some of our most recent posts here:
50+ Christmas Wreaths to Warm Your Home!
50+ Pretty Navy Blue Dresses To Wear To A Wedding