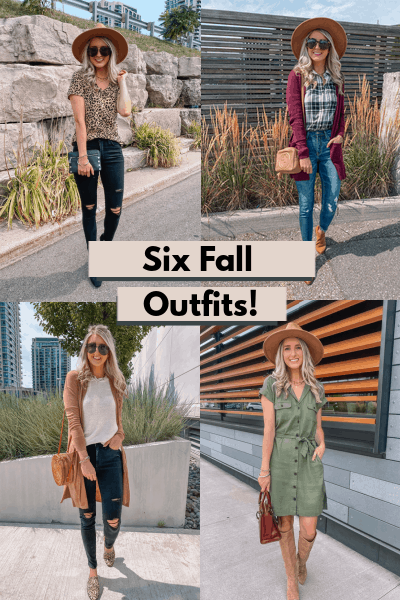 Today on Prada & Pearls I'm rounding up 6 fall outfits that I recently styled and absolutely love! I don't know about you, but I'm obsessed with fall! I love the cooler temps, the cozy sweaters and all the pumpkin spice! Today I wanted to share these looks because a lot of the items I'm styling are currently 40% off! That may have changed by the time your looking at this post, but either way all of these items are incredibly affordable!
I also wanted to say thanks so much for your continued support of my blog. You guys are awesome, and make my job possible!
Sizing – I'm wearing a size XS in the tops, jackets and cardigans in this post. I'm also wearing a size 25 or 0 in the jeans.
Enjoy!
1) Plaid + Plum Cardigan
First up plaid and plum! How gorgeous is this color, it's so pretty! I decided to pair this cardigan with plaid which is such a huge closet staple for me during fall! All of these items can be worn with so many other pieces as well which makes it so versatile! These are both awesome pieces for a fall capsule wardrobe!
CLICK FOR OUTFIT DETAILS

2) Leopard T-shirt Look
Next up is this cute leopard tee! I've been meaning to get this tee for a while, since it's perfect for fall! There's so many ways you can style this this shirt, you can easily pair it with shorts, skirts or even leggings! You can easily dress this look up or down if you want a more casual or dressier look.
CLICK FOR OUTFIT DETAILS

3) Green Utility Jacket
I had to include a green utility jacket in this haul since its a fall closet staple for me! As you can see, I paired this jacket with a striped T-shirt (its super affordable) and jeans! I love this look for fall since it's super casual while still being flattering! This one is really well made and great value for the price, it also comes in a couple different colors!
CLICK TO SHOP

4) Casual Cardigan
I had to include a casual comfy look in this haul and this one doesn't disappoint. First off I LOVE these jeans for fall, they're super affordable and I love the rips. Next I think everyone should have a long cardigan in their closet. I opted for a beige one, but this style comes in a ton of colors! Lastly I paired everything with this sweater tank – the best fall transition invention! This tank is super comfy while still stylish!
CLICK TO SHOP

5) Green Utility Dress
Next up we have a green utility dress! First of all, this dress is super comfy and VERY affordable! I've seen a ton of dresses like this one from a lot of retailers, but this one is the best priced! I paired this dress with midi boots and a felt hat, two closet staples for me during fall.
CLICK TO SHOP

6) Backyard BBQ!
Last but not least is one of my favourite fall looks! I love pairing a suede skirt with a loose sweater and midi boots. I also love mixing and matching neutral colors, they all go so well together!
CLICK TO SHOP

Newsletter
Sign up for my weekly newsletter here for exclusive offer codes, weekly sales and fashion/beauty tips and tricks right to your inbox!
More Blog Posts
Hope you enjoyed my fall outfits blog post, sharing more blog posts below!
15 FALL TRANSITION OUTFITS YOU NEED IN YOUR CLOSET!
CHEAP AMAZON JEWELRY THAT LOOKS EXPENSIVE!
HONEST PELOTON REVIEW! IS IT WORTH THE MONEY?