*Disclosure: This post may contain affiliate link. If you decide to make a purchase through these links, I may , receive a small. This will be at no additional cost to you. As always, thank you for supporting my blog!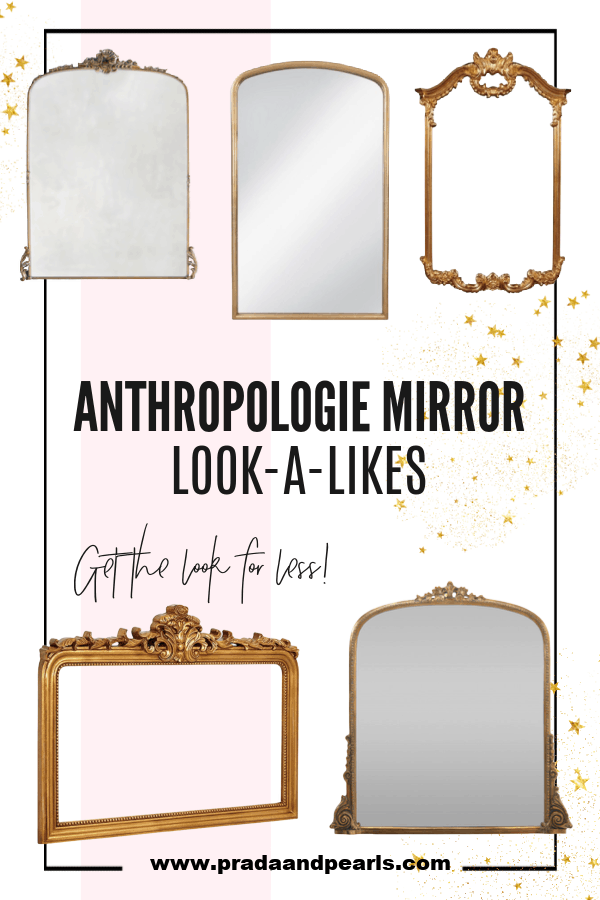 If you're into home decor, you're probably are very familiar with the coveted gold Anthropologie mirror. Also known as the Gleaming Primrose Mirror. Everyone from home decor stylists to bloggers rave about this mirror. Unfortunately it's going to set you back $1500 for the largest size.
Click here for the Anthro Mirror
The Anthropologie mirror is a stunning home decor investment, if you can afford this piece. However, I know first hand how tough 2020 has been financially for a lot of individuals including myself. Spending in the $1000s for a mirror is not in my budget. That's why I decided to round up some of my favourite mirrors that have the same look!
These mirrors aren't exactly like the Anthropologie one, however for a quarter of the price they'll give you the same feel!
As always feel free to pin any of the images below to your home decor boards!
Affordable Anthropologie Mirror Look a likes
First up, we have the Kirklands Gold Bordeaux Ornate Mirror! This mirror is floor length and VERY similar to the Anthro mirror. I love the gold details and since it's under $300 it's a steal. This mirror tends to sell out but keep checking back, it recently said it would be restocked soon.
Click here for the Kirklands Gold Floor Length Mirror
Next up we have the ARHAUS Amelie Gold Mirror. ARHAUS is known for its gorgeous ornate mirrors. This mirror is currently on sale for under $500 making it a great addition to your home!
Click here for the Gold ARHAUS Mirror
I wanted to include this mirror because it's also floor length and has gorgeous gold details! At only $205 it would be an amazing addition to your home. As this is sold on Etsy there are only a certain amount of units, so if interested, purchase soon!
Click here for the Etsy French mirror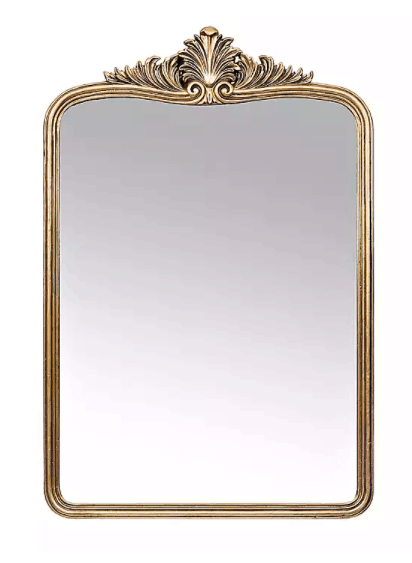 Next up is another Kirklands mirror that is currently in stock! I love Kirklands for their prices, they're hard to beat and they also go on sale quite frequently! This mirror has really nice details and would look gorgeous on a wall or over a fireplace!
Click here for the Victoria Scroll Mirror
This is one of the most ornate mirrors in this post! It's a stunner. If you're really going for the classic french look, this is the one!
Click here for this classic gold mirror
This rectangle ornate mirror would be the perfect addition above a mantle! I love the details on this one and it's really affordable as well! It comes in two sizes and has over positive 140 reviews!
Click here for the rectangle gold mirror
This huge gold floor length mirror is very similar to the largest Anthropologie Mirror. It's also on sale right now for $1350. If you're looking for a large mirror, I would go with this one, especially for the current sale!
Large Gold Floor Length Ornate Mirror
Alright this mirror is probably the closest I have ever seen to the Anthro mirror and at only $299CAD it's an incredible price. Structube is a Canadian company (I have ordered from them MANY times) however they also ship to the USA. I highly recommend this mirror for the price!
Click here for the Structure Mirror
This 7ft mirror is under $800 and would make for the perfect addition for any room if you're looking for a large floor length mirror! It has simple details but is covered in gold leaf!
More Anthropologie Mirror Look a Likes!
Below you will find more mirrors similar to the Anthro mirror! All of these would be gorgeous additions to your home decor. These range in price from $100-$500. There's definetely something that will fit your budget!

Read this next!
Best Vitamin C Serum For Hyperpigmentation