This blog post is all about bringing you the best Amazon Kitchen Gadgets that will make your life easier! I love finding new Amazon gadgets I can use around the house to help me cook, clean and get organized!
I have a really small kitchen, which makes life difficult sometimes. It gets extremely disorganized and dirty really quickly. That's why I've made it my mission in 2021 to find the best kitchen gadgets to use to make life easier. This includes gadgets that are food related, cleaning related and also organization related.
All of these kitchen must haves are very affordable, most are under $25. All of the gadgets listed have a lot of positive amazon reviews as well. I wanted to make sure that all of these gadgets are worth the hype! I hope you enjoy all of the kitchen finds below!
The Best Amazon Kitchen Gadgets
Food Related Amazon Kitchen Gadgets
Below you will find an assortment of Amazon Kitchen Gadgets that are all related to food! Whether it makes it easier to cut, cook or store food there's tons of gadgets below that will make it quick and easy. All of these items are are incredibly affordable and are easy to store away!
1. Pasta Strainer
First up, we have a plastic pasta strainer that's adjustable to fit almost all pots. I'll be the first to admit, I hate straining pasta. It's always so awkward and I hate pulling out a huge stainer just to use once. This easy attachment makes it easy and quick with little clean up!
Click here for the pasta Strainer on Amazon
2. Easy & Affordable Vegetable Chopper
This easy to use vegetable chopper comes with 4 blades for 4 different chopping sizes. It's super affordable, BPA free and easy to clean. It will make chopping veggies a breeze.
Click here for the Vegetable Chopper on Amazon
3. Veggie Washing Rack
This stainless steel rack makes washing your veggies or drying your dishes super easy. You can easily clean it by throwing it in the dishwasher!
Click here for the washing rack on Amazon
4. Rapid Egg Cooker
The rapid egg cooker can cook 6 eggs at once! It can cook soft, medium or firm hard boiled eggs. It can also make poached eggs, scrambled eggs, omelets and more all within minutes!
Click here for the Egg Cooker on Amazon
5. Cereal Dispenser
This cute cereal dispenser can hold two different cereals and keeps them from going stale. The cereal is easy and fun to dispense. It's a super cute addition to your kitchen counter, especially if you have kids!
Click here for the cereal dispenser on Amazon
6. Oil Dispensers
These oil dispensers are amazing, we couldn't live without ours! They're drip free and make using oil so much easier. They also help keep the oil from spoiling and are easy to clean! We use them personally for olive oil, vegetable oil and vinegars.
Click here for Oil Dispensers on Amazon
7. Vegetable Spiralizer
This mini veggie spiralizer is compact and has 4 different settings. It's perfect for creating Veggie pastas and garnishes. It's dishwasher safe so it's incredibly easy to clean.
Click here for the Veggie Spiralizer on Amazon
8. Avocado cutter and pitter
This tool is a three in one! You can pit the Avocado, and slice two ways easily! I know first hand how difficult it is to cut an Avocado and this tool honestly makes it so easy. It's also super affordable which is a plus!
Click here for the Avocado cutter on Amazon
9. Automatic Can Opener
This battery powered can opener makes opening cans super easy. All you have to do is push one button and your can is open. Quick, easy tool to use.
Click here for the Automatic Can Opener
10. Top Rated Pizza Cutter
This pizza cutter is incredibly highly rated on Amazon. It contains a sharp blade that makes cutting pizza easy with a safe guard for safe cutting. It's also dishwasher safe. If you're household eats a lot of pizza, you need this gadget!
Click here for the best pizza cutter
11. Herb Storage Containers
Anyone who uses herbs knows the struggles of keeping them fresh. These herb pods triple the life of your herbs so they stay edible in the fridge!
Click here for the Herb Storage Containers
Kitchen Cleaning Gadgets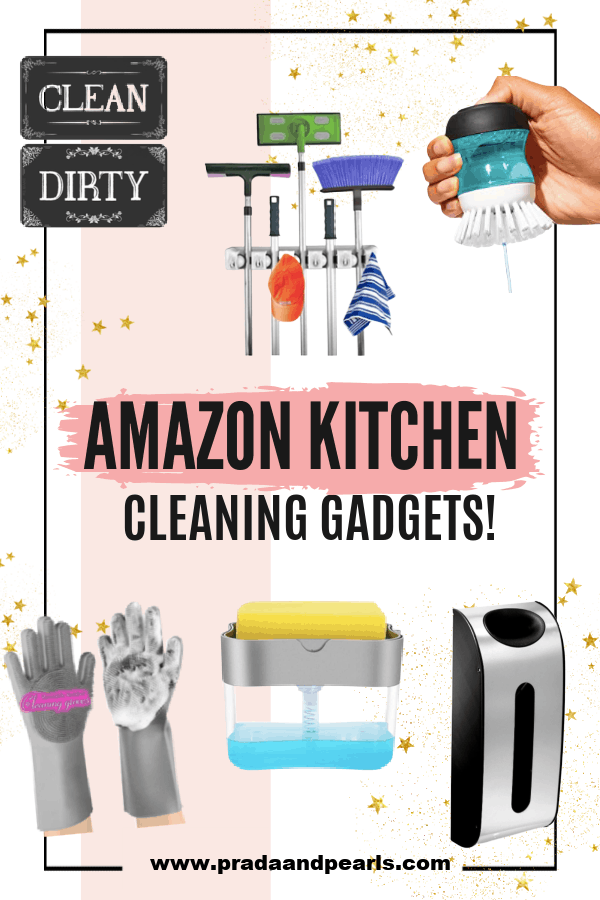 Next up we have the best kitchen cleaning gadgets! I'm the official kitchen cleaner in my household so I know first hand how important it is to have handy cleaning items. Below you will find my top picks from Amazon. As always, all of these items are very affordable and will help keep your kitchen clean.
1. Soap, Sponge Dispenser
This soap dispenser keeps the kitchen clean and organized. This dispenser easily puts soap onto your sponges to make cleaning faster. This dispenser is also small and affordable.
Click here for the soap sponge dispenser on Amazon
2. Scrub Brush Soap Dispenser
If you prefer a scrubbing brush to clean your dishes this is an awesome scrub brush from Amazon. The Brush contains soap making it super easy and fast to clean your dishes.
Click here for the soap scrub brush
3. Soapy Cleaning Gloves
These soapy cleaning gloves are the best invention! I love wearing gloves while I do the dishes anyways (due to the hot water), but the fact that these get soapy is even better! They make cleaning dishes a breeze.
Click here for soapy cleaning gloves
4. Broom Organizer
One of the hardest parts about kitchen organization for me is broom/swifer storage. Most of my closets can fit these items so having a wall attachment that keeps these organized is a life saver.
Click here for the Broom Organizer on Amazon
5. Plastic Bag Container
One of the hardest things I find to organize in my kitchen is all the plastic bags we accumulate. This clean plastic bag container makes storing them quick and easy!
Click here for the plastic bag container on Amazon
6. Clean/Dirty Dish Magnet
Having a clean and dirty dish magnet for your dishwasher can be so crucial! I know first hand how difficult it can be to communicate to those in your household whether the dishwasher has been run or not, so these magnets make it super easy!
Click here for the Clean/Dirty Dish Magnet on Amazon
Amazon Kitchen Organization Finds
I have an entire article related to Amazon Kitchen Organization finds. There you will find everything from Fridge organization items, to pantry to general items that will make your kitchen clean! Check them out here:
The Best Amazon Kitchen Organization Finds
I hope you enjoyed this article all about amazon kitchen gadgets! They will all make your life easier when trying to get your kitchen in order.
Pin it