Disclaimer: This blog post may contain affiliate links. If you click on one and make a purchase, I will make a small commission, at no extra cost to you. These are products I've personally used and stand behind, learn more.
Are you looking for some amazing Christmas Tray Ideas try out this year? If so, you've come to the right post!
Christmas is right around the corner, which means it's time to start thinking about all of your holiday decor. Decorating a tray is such an easy way to bring some cheer into your home. They're really easy to put together and instantly bring some Christmas magic into your kitchen.
That's why we wanted to round up some of our favourite designs below, so you can get into the Holiday spirit! Whether you're looking for a gingerbread theme, or maybe snowflakes, we have all that and everything in between for your perfect holiday tray.
Our Favourite Christmas Trays
Everything linked below are items you can add to a tray you already own. If you don't have a tray, we have linked some of our favourites here, so you're all set once your decorations arrive!
Want more Christmas Content?
Looking for more Christmas content to get some inspiration from? Check out our related posts here:
50+ Christmas Nails You Need To Try This Year!
30+ Christmas Charcuterie Boards To Make This Season!
50+ Stunning Christmas Front Porch Decor Ideas!
Tiered Tray Decorating Tips
If you decide to DIY your Christmas Tray this year, we have some tips to make it looks festive and fun.
Theme Harmony: Choose a cohesive theme that aligns with your overall Christmas decor. Whether it's rustic, traditional, or modern, maintaining a consistent theme creates a visually pleasing tiered tray display.
Balance in Heights: Achieve balance by varying the heights of your decorative items. Use tiered trays to their full advantage by placing taller items at the back and shorter ones towards the front, creating a dynamic and layered look.
Mix Textures and Materials: Incorporate a variety of textures and materials to add interest and depth to your display. Combine elements like wood, metal, glass, and fabric for a multi-dimensional and inviting arrangement.
Festive Color Palette: Stick to a festive color palette that complements your overall Christmas theme. Reds, greens, golds, and whites are classic choices, but feel free to add pops of other colors that resonate with your personal style.
Personal Touches: Infuse your personality into the decor by including personal touches. Consider incorporating handmade ornaments, family heirlooms, or DIY crafts to make the tiered tray uniquely yours.
Space Awareness: Be mindful of the available space on each tier. Avoid overcrowding to maintain a visually appealing and organized look. Leave some empty spaces for a polished and elegant feel.
Seasonal Greenery: Integrate seasonal greenery like pine sprigs, eucalyptus, or holly to bring a touch of nature to your tiered tray. Greenery adds freshness and a festive vibe, enhancing the overall Christmas spirit.
By incorporating these tips, you can transform your tiered tray into a stunning and festive centrepiece that reflects your personal style and spreads holiday cheer throughout your home!
Let's get Decorating!
Below, we've rounded up 30+ Christmas tray ideas, that are perfect for the holiday season. Remember, feel free to pin any of the images below too recreate all of these designs in the future.
If you're not sure what design you like best, why not save a couple to Pinterest so you can reference them later. Or, bookmark this page to find it closer to Christmas.
The Best Christmas Trays that bring Cheer to your Home!
How stunning is this pink Christmas tray! I love pink Christmas decor, you don't see it very often and it's such a gorgeous color palette for the holiday season,
SHOP ON ETSY
2) Frosty Nights
How cute is this Frosty the Snowman themed tray! This is something all the kids are such to love.
SHOP ON ETSY
3) Santa Stop Here!
We're loving the red and white theme of this tray! Santa is sure to stop and have some treats.
SHOP ON ETSY
4) Oh Snap!
The cutest baking tray around. If you love making cookies during the holiday break, this is the tray for you.
SHOP ON ETSY
5) Winter Wonderland
SHOP ON ETSY
6) Stop Santa Here
If you're wanting to get Santa's attention on Christmas Eve, this is the tray for you! We're loving all the cute details, especially the gnome!
SHOP IT HERE
7) Hot Cocoa Tray
Who doesn't love a good hot cocoa during the winter season? This tray is perfect for all your hot chocolate needs.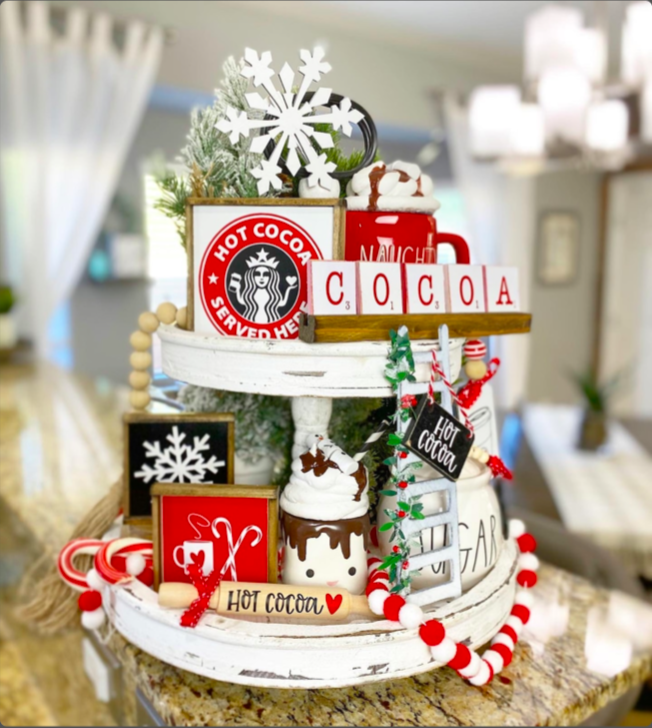 SHOP ON ETSY
8) The Grinch is here
Christmas isn't complete without the Grinch! This treat tray consists of all the stolen grinch goods that make Christmas magical.
SHOP ON ETSY
9) Santa's Workshop
SHOP ON ETSY
10) Gingerbread Love
If you love gingerbread men this tray is for you! We're loving all the cute details this tray has.
SHOP ON ETSY
11) Christmas Tree Farm
One of my favourite things to do during Christmas time, is visit a Christmas tree farm and cut down our own tree. There's nothing in this world that smells better than a freshly cut tree in my opinion.
SHOP ON ETSY
12) Home Sweet Home
SHOP ON ETSY
13) Reindeer Crossing
How adorable is this Holiday tray! All the reindeer details make for the perfect touches to this Christmas themed display.
SHOP ON ETSY
14) Snow Day
The perfect tray to enjoy when you're snowed in. Grab a cup of hot chocolate and watch movies all day long.
SHOP ON ETSY
15) North Pole Candy Canes
SHOP ON ETSY
16) Merry & Bright
How fun is this tray! These bright colors, are sure to add some extra jolliness and joy to your home this holiday season.
SHOP ON ETSY
17) Letter to Santa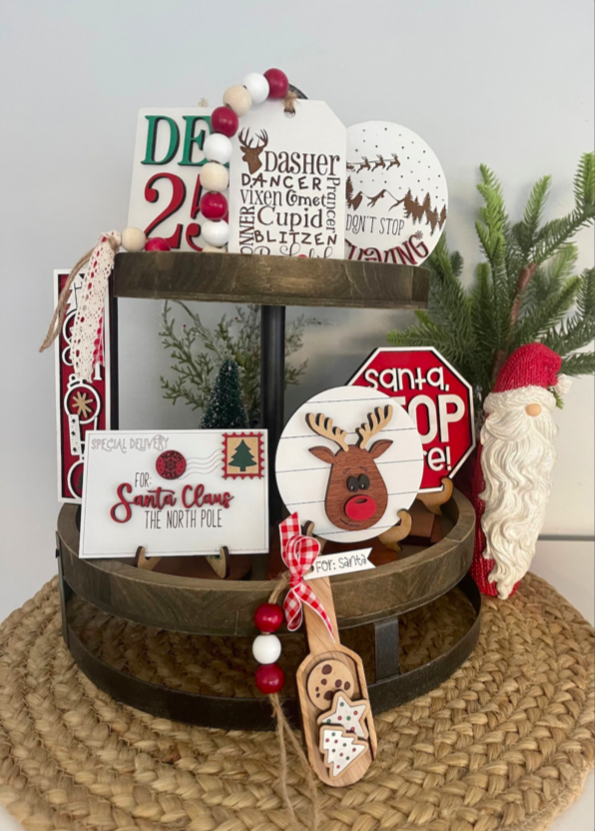 SHOP ON ETSY
18) Winter Wonderland
This winter wonderland tray is so aesthetic! If you have a more natural winter palette, this will match perfectly.
SHOP ON ETSY
19) Hot Chocolate Season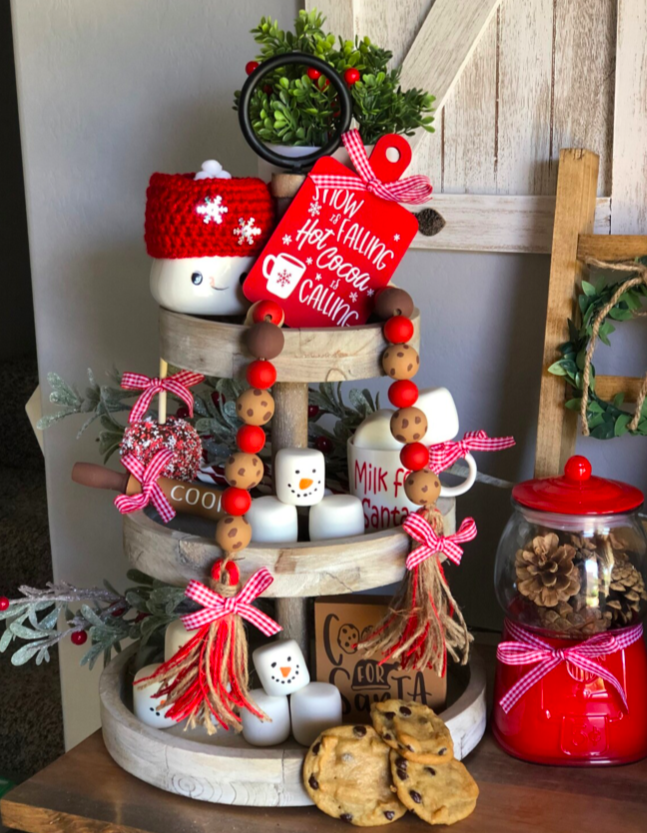 SHOP ON ETSY
20) Merry & Bright
SHOP ON ETSY
21) Silent Night
For a more traditional tray, this one contains the most beautiful Christmas songs.
SHOP ON ETSY
22) Gingerbread Dr.
SHOP ON ETSY
23) We have cookies!
A bakers dream! Nothing beats fresh baked christmas cookies while waiting for Santa to come.
SHOP ON ETSY
24) Candy Cane Hot Chocolate Tray
Had to throw a candy cane tray in the mix! They're one of the best things about the holiday season. My personal favourites are the blue ones.
SHOP ON ETSY
25) Welcome Winter
SHOP ON ETSY
26) Comfort & Joy
This is such a unique color palette! I would never think go pairing lavender and white during Christmas time but it works so well.
SHOP ON ETSY
27) Oh Snap!
SHOP ON ETSY
28) Sweater Weather
SHOP ON ETSY
29) Candy Cane Forest
SHOP ON ETSY
30) Jolly Christmas
SHOP ON ETSY
31) Let it snow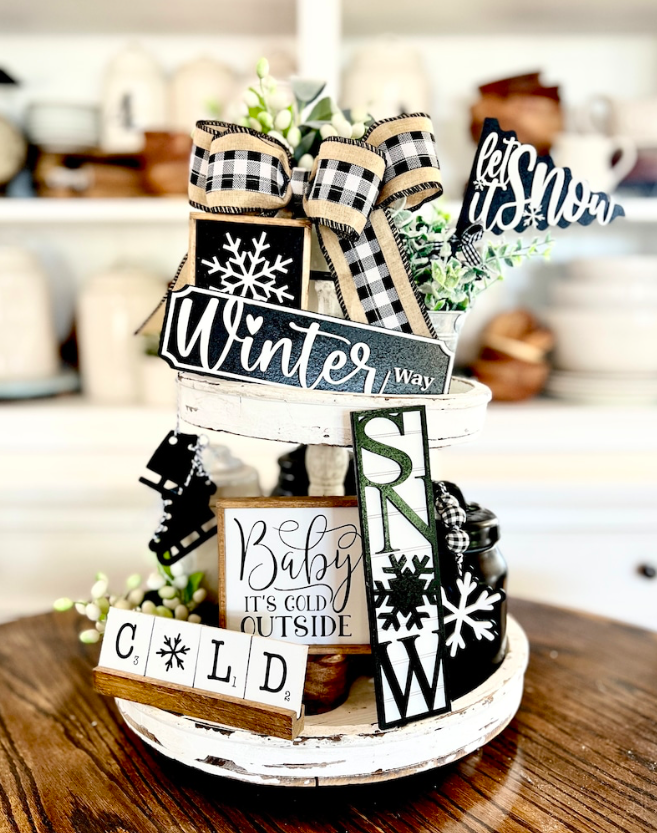 SHOP ON ETSY
32) Reindeer coming to town
SHOP ON ETSY
33) Cute Details
SHOP ON ETSY
We hope you enjoyed all of these gorgeous Christmas tray ideas! There's so many different designs to choose from, so you can style your personal tray to match your festive home decor! All of these different designs are sure to be a hit with all your guests and your kids.
As always, feel free to bookmark this page to save it for later, or Pin these images to Pinterest to share with friends!
Read these next!
Loved all of these Christmas Tray Ideas? Read these articles next!
50+ Pretty Navy Blue Dresses To Wear To A Wedding