Disclaimer: This blog post may contain affiliate links. If you click on one and make a purchase, I will make a small commission, at no extra cost to you. These are products I've personally used and stand behind, learn more.
First off, I hope everyone is staying healthy and safe right now. I'm trying to keep things as normal as possible over on Prada & Pearls while still providing helpful updates and positivity! I've recently gotten a ton of items off Amazon so I wanted to share these as a March Amazon Haul! There's something for everyone here from jewelry to swimwear! Enjoy!
Check out my Previous Amazon Hauls:
Amazon Fashion Finds Spring Clothing
Amazon Fashion Finds Summer Clothing
Amazon Fashion Finds Fall/Winter Clothing Amazon January Finds
Tips For Shopping On Amazon
I get it, online shopping can be stressful. When I shop on Amazon, the first thing I do is look at reviews! I always go for clothing that has a high rating. I also read through the reviews to get an idea of what size I am. Don't be afraid to use the measurements on the site as well, they can help you get a great fit! Worst case, if you don't like the product, Amazon has an amazing return policy!
PJ Set
First up is this super cute "Let me sleep" PJ set! I'm wearing a size medium – I wanted to size up so the PJs fit looser. This set comes in so many colors and is only $17! I honestly cannot recommend it enough, the style is super cute and it's great quality!
Heart Sunglasses!
Next, are these heart shaped sunglasses! I found a package deal where you get two colors (I chose red and white) for only $12! I absolutely love this style of sunnies, I've been seeing it everywhere. I already own these in tortoise shell so I had to get them in a couple more colors! They're so fun to style!
Jewellery Holders
Lately I've been all about the jewelry holders! I've really been trying to organize my home, and this bracelet holder has really come in handy! It's made of velvet and has three tiers which can hold lots of bracelets! I've been using it for the last three weeks and I'm super impressed. I also love the grey color because it's super neutral, it goes with a lot of decor!
While we're on jewelry holders, I wanted to include this necklace holder in this haul because it's also amazing. I'll be honest, I'm the type of person who leaves their necklaces in a heap and then they get all tangled! This organizer has helped me SO MUCH. It's also really pretty, I love the gold features! This one is only $20 which is such a steal! If you want to get your necklaces organized to I highly recommend this holder!
Makeup Holder!
Next up is this makeup holder! I use this as a travel case mainly, however you can easily use this day to day as well! I want to mention that each of the dividers are removable so you can change the layout of this holder really easily! Some of my palettes are bigger then others, so having the dividers interchangeable is great! This holder comes in a bunch of colors as well- I got pink of course! I absolutely love how much stuff this can hold and for the price you cant beat it, its only $20!
Travel Jewelry Case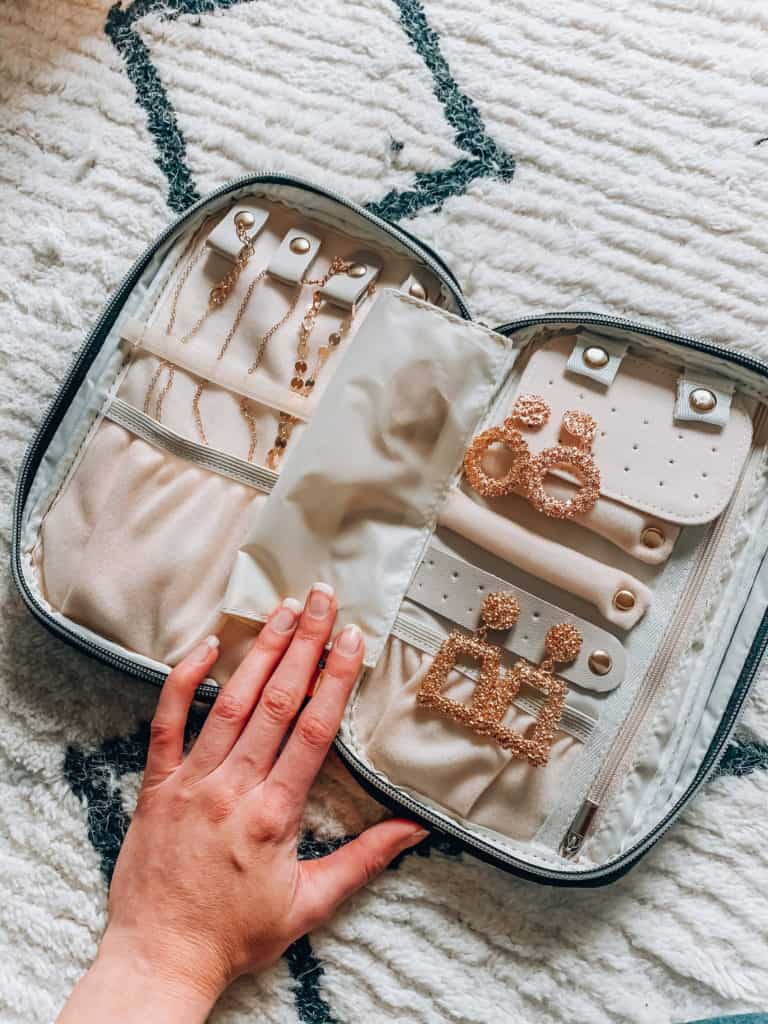 First of all, this jewelry case is EVERYTHING! There's two sections to this – in the first section there's 2 places to store earrings, these are so easy to use. There's also a zippered section for extra storage! On the second part, you can store your necklaces. The greatest thing is that you can keep each necklace separate and they stay in place with a Velcro strap!! How smart is that! There are SO many compartments to this, I cannot recommend it enough, especially for travel! It's also only $17!
Key Ring!
I've included this key ring before and I'm including it again because it's bomb! First off it's silicon, which makes it easy to use! These key rings come in so many colors plus they're also super affordable! I have the hardest time finding my keys so these make it easy! If you want a keyring that's easy to find and hard to break this is the one for you!
Earrings!
Next on the list are these gorgeous earrings! I wasn't really sure what to expect when I ordered these but I'm impressed! There's so much value here. This style is so popular right now and when I saw all six of these come together for only $20 I had to give them a try! I love how there's three colors as well: rose gold, silver and gold – there's something for everyone! If you want new earrings definitely check these ones out! *this exact set is available in Canada only*
*I've found some extremely similar ones on the US Amazon here – some of these have extra colors which is amazing:
Bathing suits!
Last but certainly not least in this March Amazon Haul are two bathing suits that I'm still obsessed with! The coral one above I got last summer…I LOVE the colors! Also how cute are these tassels! This is such a fun suit for spring and summer and you cannot beat the price (I'm wearing a size small)!
This second striped suit is just as cute as the coral! I'm all about high waisted swim wear right now and this one is great quality! The red pom poms just add such a cute touch as well – again wearing a size small!
I hope you enjoyed this March Amazon Haul! Stay tuned for my next one!!
PIN IT!