*Disclosure: This post may contain affiliate links, which means that I get a commission if you decide to make a purchase through my links, at no cost to you. This post is also sponsored by EnviroKlenz Air Purifier, however all opinions are and will always be my own.
Today on Prada & Pearls I'm talking about the best home cleaning products on Amazon! Having a clean home is so important, now more than ever. For me, I always want to make sure everything is sterilized and fresh. With that said, there's a ton of items on Amazon that are great additions to your home. Since we're all spending so much time inside, it makes such a difference when its clean. That's why today I wanted to round up some of my best home cleaning finds that you need!
The Best Home Cleaning Products On Amazon!
1 EnviroKlenz Air Purifier / 2 Scrub Daddy / 3 Microfiber cloths / 4 Mr.Clean Magic Eraser / 5 Lilly Brush / 6 iRobot Vacuum / 7 Angry Mama Cleaner
1) EnviroKlenz
Air

Purifier
Click here for the EnviroKlenz Air Purifier
The first item on this list is an investment piece for your home. Handcrafted in the USA, the EnviroKlenz Air Purifier is one of the best air purifiers currently on the market. Covering a space of up to 1000 square feet, it cleans 99.9% of airborne viruses and bacteria. This is the main reason I love this product. Using a HEPA filter that only needs to be changed every two years, this purifier cleanses allergens, pet dandruff, microorganisms and more out of the air. Not only is this purifier great during Covid, it's also fantastic if you have allergies. Having a purifier that completely sanitizes the air in your home is a rare find.
One of the main things I look for before I purchase an air purifier is how loud it will be during operation. The EnviroKlenz has a unique whisper-mode that allows the purifier to run close to silent on a lower speed. This is a great feature to have since it gives you more options of where you can place the purifier in your home.
The EnviroKlenz is safe for both children and pets as it uses earth minerals to capture and destroy toxins. Therefore making it safe to not only use in your home but also in a workplace. The air purifier doesn't include any abrasive chemicals, masking agents or toxic fillers that can be harmful to your health.
To learn additional information about the EnviroKlenz Air Purifier, check out their website here
2) iRobot Vacuum
Click here for the iRobot Vacuum
Next up we have the iRobot Roomba. Having a robot vacuum is incredibly convenient. You can determine the area you want vacuum, turn it on and let it go. It's seriously that easy! The vacuum self cleans in the dedicated area, making vacuuming incredibly simple. Chris and I absolutely love using our Roomba, we put it on when we run errands out of the house and while we're working during the day. This model can also be linked to your Alexa and therefore can be voice activated.
The Roomba cleans both carpet and hardwood floors. It's also able to navigate on uneven surfaces which is a fantastic feature. It can run for 90 minutes straight and then can be easily be recharged in its docking station.
3) Microfiber Cleaning Cloths
Click here for the Microfiber Cleaning Cloths
Next up we have a more basic product, microfibre cleaning cloths. With over 25,000 positive reviews on Amazon, these are one of the highest rated cleaning products on the website. Given that these cloths are absorbent and lint free, they are perfect to use for cleaning kitchens and bathrooms. The best part about these cloths are that they can be washed and re-used. They'll last more than 100 washes which attests to their great quality.
4) Car Cleaning Gel
Click here for the Cleaning Gel
One of the hardest things to clean is your vehicle. Dirt and grime gets into small crevices which is hard to get rid of. The car cleaning gel is a fantastic solution to this. This gel molds to the small crevices to pick up dirt. The gel is reusable until it turns dark due to dust accumulation. If you're looking for a quick solution to tidy up your car this is for you!
5) Scrub Daddy
Click here for the Scrub Daddy sponges
I had to include Scrub Daddy in this post since they're fantastic cleaning sponges. I first heard of Scrub Daddy back on Shark Tank when they appeared. Ever since then, I've been using them to clean my dishes and they really make a difference! They're scratch free so you don't need to worry about damaging your dishes and pans. They're also odor resistant (this is a must) and temperature controlled. They'll switch between firm and soft depending on the water temperature.
6) The Angry Mama Cleaner
Click here for the Angry Mom Cleaner
The Angry Mama Cleaner is a game changer for the kitchen. It helps you remove stuck on stains in your microwave! Just add vinegar and water and pop it into your micro for 7 minutes. Then use a cloth and wipe away stuck on stains. This makes cleaning so much easier! It's also dishwasher safe.
7) Mr.Clean Magic Eraser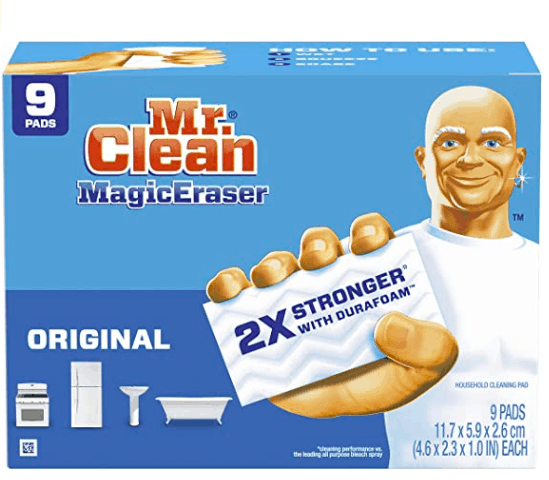 Click here for the Mr.Clean Magic Eraser
I've been buying Mr.Clean magic erasers for years. They are awesome for cleaning stuck on dirt and grime, especially in your bathtub. For me, this is one of the hardest things to clean in the house given soap scum, dirt and even mold that can develop. Whenever I use Magic clean eraser it's so easy to get rid of everything.
8) Pet Hair Detailer
Click for the pet hair detailer
If you have a pet you know the struggle of getting rid of pet hair. Our cat Brady has semi-thick hair and sheds like crazy. Brady's hair gets everywhere, including on our clothing, furniture and carpets. The Lilly brush makes it incredibly easy to remove. Just run the brush over the surface and it will remove all hair.
That's everything! I hope you found something in all of these home cleaning products on Amazon! All of these items will help keep your home clean and fresh!
Read these next!
30+ Butterfly Nails To Try This Summer!