Are you looking for some delicious peach recipes to make? If so, this is the post for you!
We've rounded up our absolute favourite peach recipes below. You can find everything from cakes to salads.
As always feel free to pin any of the images to Pinterest to save for later!
50+ Delicious Peach Recipes You Need To Try!
50) Peach Panzanella Salad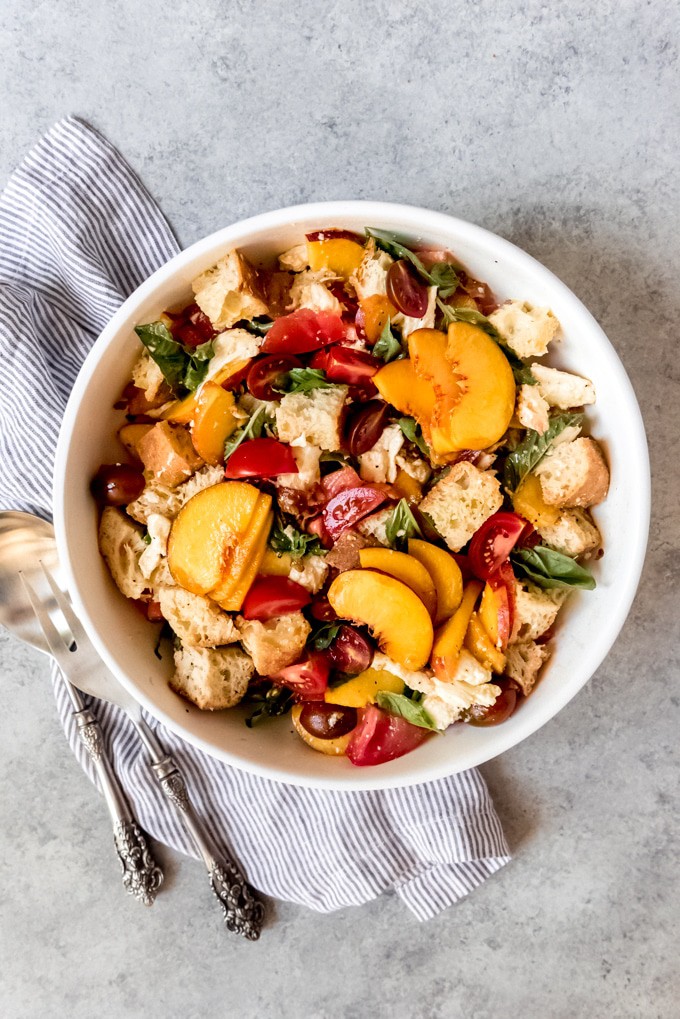 This bright peach panzanella salad by House Of Nash Eats is the perfect fresh summer salad! It's simple and easy to make and is a great healthy option.
49) BBQ Peach Sheet Pan Pizza
This peach bbq pizza by The Creative Bite looks so mouthwatering! It's such a creative way to use up extra peaches!
48) Habanero Peach Salsa
This spicy peach salad by Tao of Spice can be made in 5 minutes! It's the perfect side dish for lunches and dinners.
47) Honey Lime Chicken With Grilled Peach and Corn Salad
How good does this chicken salad look!? I love the way Fannetastic Food incorporated the peaches!
46) Peach Cobbler Pound Cake
Had to include a pound cake in this peach recipes roundup and this peach cobbler one by The Classy Baker looks amazing!
45) Churro Waffles with Peaches and Cream
Looking for a decadent dessert? These peach churro waffles by Tao and Spice have your name on them!
44) Old fashioned Peach Ice Cream
The perfect summer treat is this old fashioned peach ice cream by Beyond The Chicken Coop! This sweet, cool dessert is perfect for the whole family.
43) Peach, Basil and Bacon Baked Brie
I personally love baked brie, it's one of my guilty pleasures! This recipe by Homemade For Elle looks absolutely amazing!
42) Healthy Grilled Peach Salad With Basil Vinegrette

This simple peach salad by Girl With The Iron Cast is perfect for a healthy lunch!
41) Peach Iced Tea
Looking for a refreshing drink to beat the heat? Look no further, this homemade peach iced tea recipe by A Table Full of Joy is a sweet treat!
40) Peach Cobbler Cookies
These sweet cookies by Just As Tasty are the perfect desserts!
39) Peach Galette
This peach galette by Delicious Little Bites looks almost too good to eat!
38) Peach Pancakes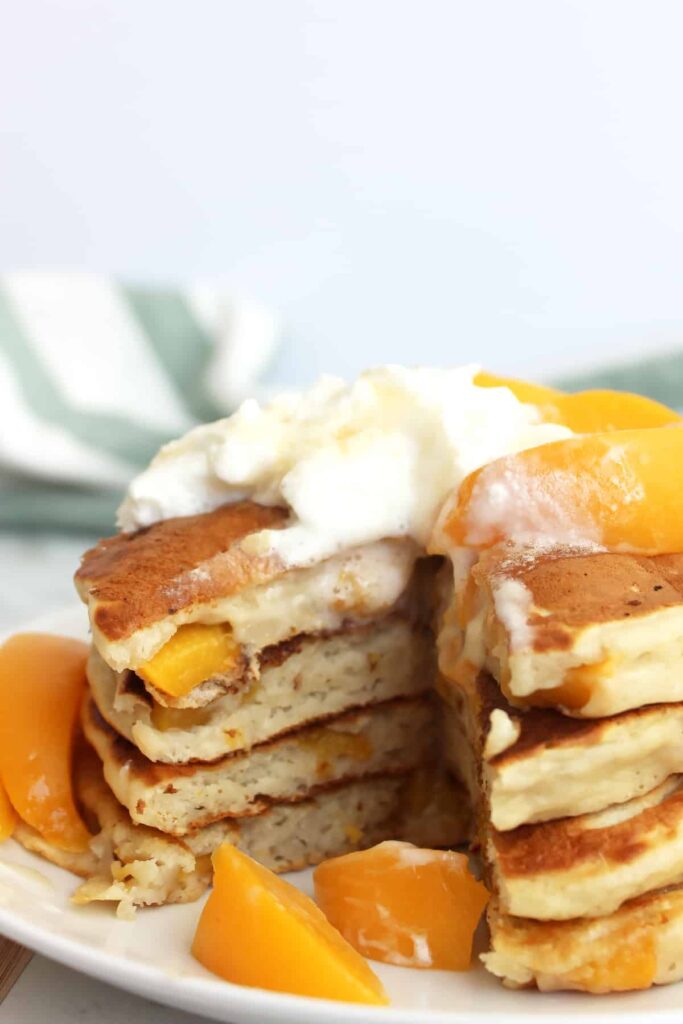 One of my guilt pleasure is fluffy pancakes! These ones by Slow The Cook Down are full of fluffy goodness. You can even make this recipe with canned peaches!
37) Dijon Tilapia with a Zucchini Peach Salsa
Had to include a healthy fish recipe in this round up and this one by Strength & Sunshine looks amazing! Love the idea of creating a peach and zucchini salsa!
36) Peach bread
This loaded peach bread by Simply Stacie is perfect for breakfast or an energizing snack!
35) One Pan Balsamic Chicken With Peaches and Basil
This one pan chicken peach balsamic recipe by Celebration Generation is an easy dinner recipe you can put together for the whole family!
34) Peach Moscow Mule
I'll be honest I've never considered making a peach Moscow mule but after seeing this one by Bites With Bri I'm going to try it!
33) Peach Rose Cupcakes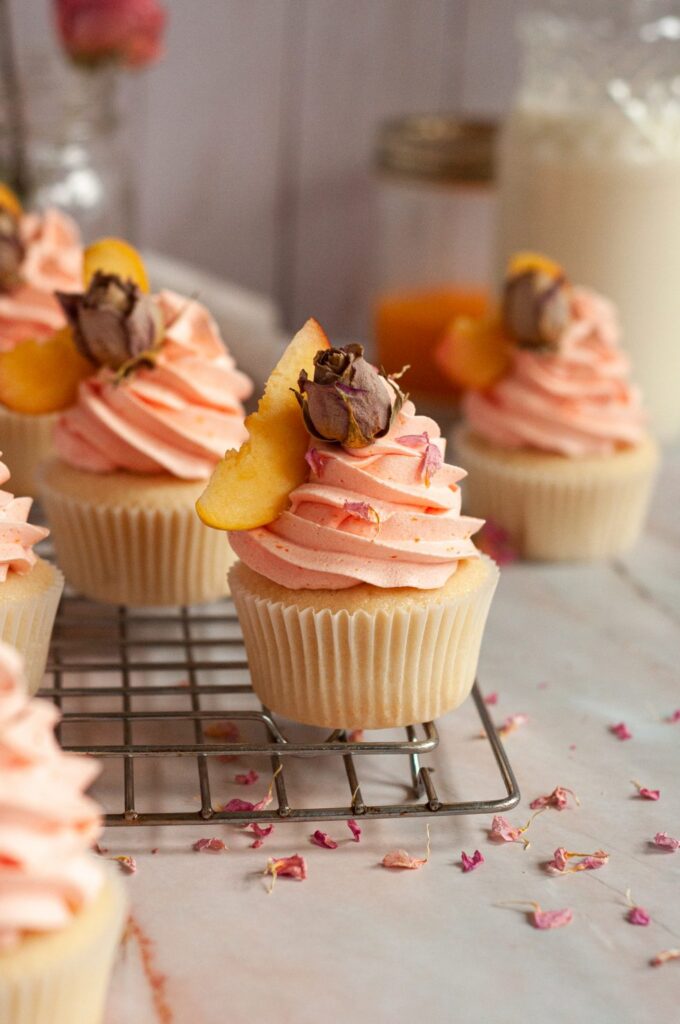 If you're looking for a sweet treat, how about these rose and peach cupcakes by Caked By Katie!
32) Grilled Peaches With A Lime Glaze
Had to include some grilled peaches in this round up! These ones by Lana's Cooking have a twist by adding a lime glaze.
31) Coconut Peach Popsicles
These coconut peach popsicles by Tasting Page are the perfect summer treat!
30) Homemade Peach Pie
This peach recipes roundup wouldn't be complete without peach pie. How amazing does this one look by Joy Food Sunshine!?
29) Gluten Free Peach Crisp
If you're looking for a great gluten free peach cobbler recipe, this one by The Recipe Well is the one for you!
28) Brown Butter Peach Layer Cake
This cake by Barley and Sage looks almost too good to eat!
27) Peach Ricotta Pizza
Another take on peach pizza! I love how Chisel & Fork combined the ricotta and peaches, it gives this pizza a nice salty and sweet combination.
26) Roasted Chicken and Peaches
This roasted chicken and peaches skillet from Barley & Sage is the perfect easy dinner recipe for the whole family!
25) Skillet balsamic pork chops with peaches and gorgonzola
This is a great dinner recipe from Basil & Bubbly that incorporates peaches! You get a great combination of sweet and savoury.
24) Blueberry Peach Crisp
This blueberry peach crisp recipe from The Jam Jar Kitchen is packed with fresh summer fruit and pairs perfectly with ice cream!
23) Frozen Peach Margarita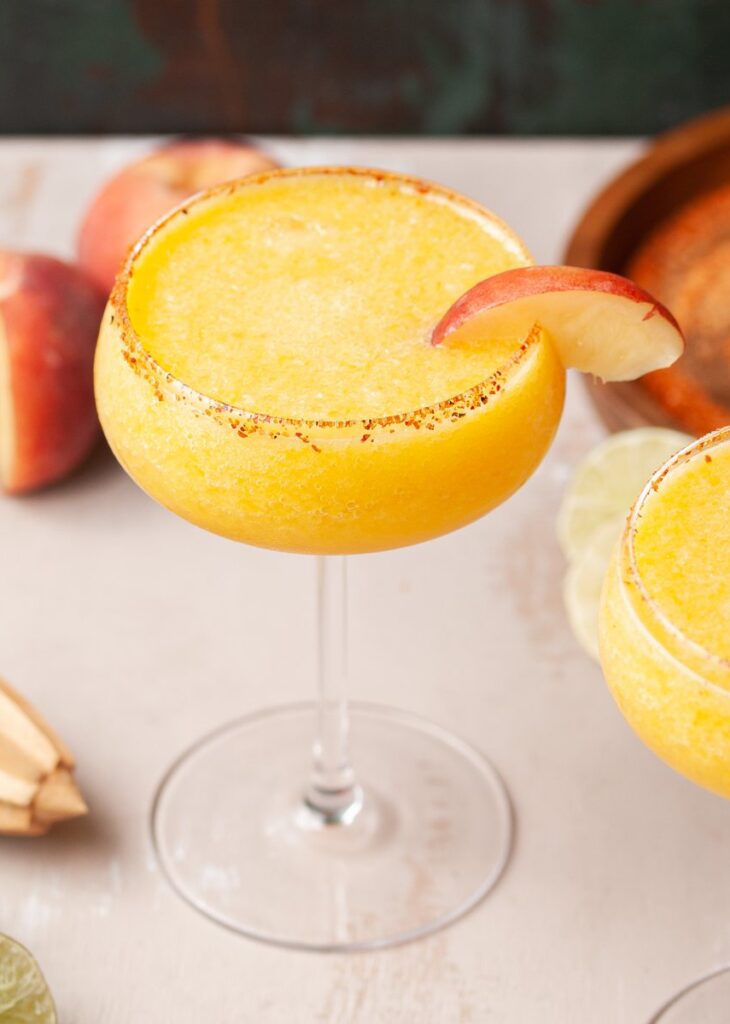 Had to include a fun margarita recipe in this round up and this frozen peach version by Marley's Menu is sure to be a crowd pleaser!
22) Spiced Pork and Peach Kabobs
This recipe from Muy Bueno has a fresh take ons pork Kabobs! The peaches add a nice sweet touch to this plate!
21) Peach Cobbler Pound Cake

This yummy peach pound cake by The Anthony Kitchen is the perfect summer treat for entertaining!
20) Ricotta Toast with Pancetta and Peaches
This ricotta toast with pancetta and peaches just looks so delicious! Also how stunning is this presentation by Couple In The Kitchen!
19) Peach Slab Pie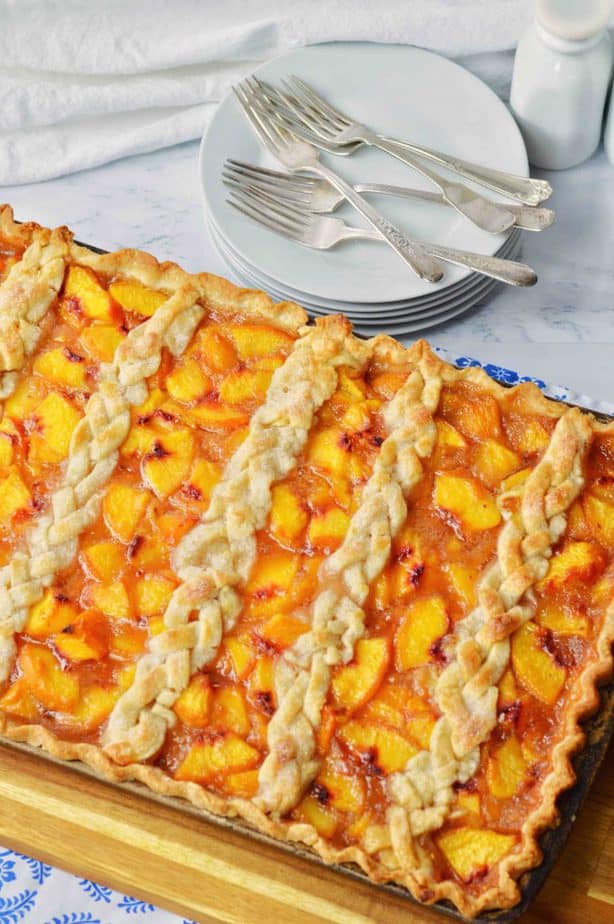 Okay this peach slab pie from In Fine Taste looks absolutely delicious!
18) Peaches and Cream Popsicles
These peaches and cream popsicles by In Fine Taste are the perfect cool treat for summer!
17) Homemade Blueberry Peach Pie
I personally love the combination of peach and blueberries and this pie by Family Spice it's the perfect way to have them together!
16) Baked Peach Oatmeal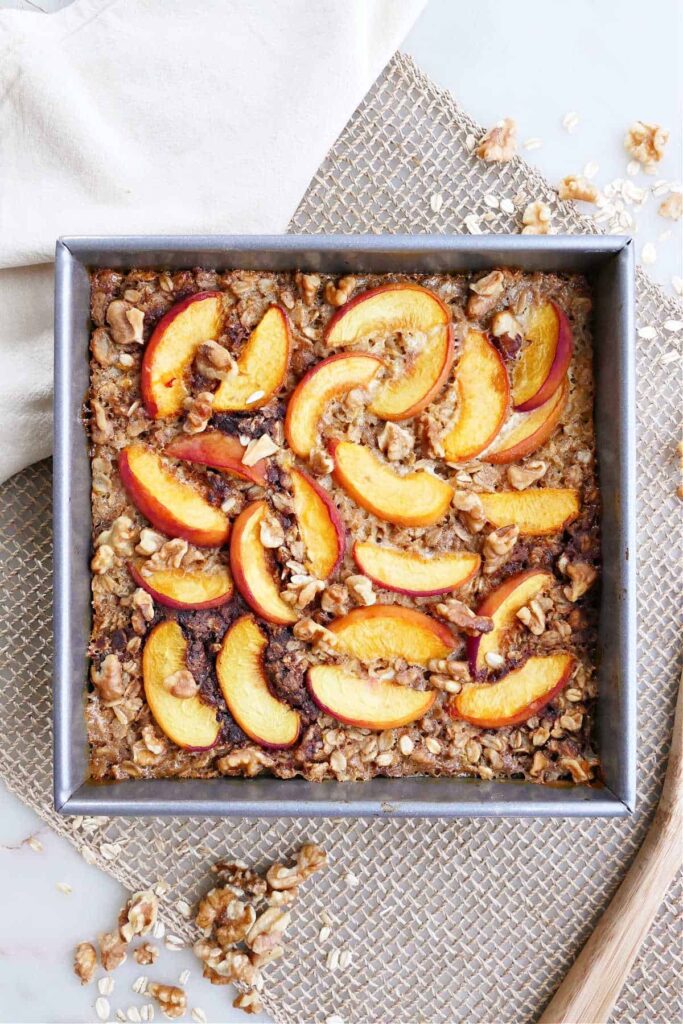 If you're looking for a healthy oatmeal recipe this one from It's A Veg World After All uses up a ton of peaches!
15) Peach Bourbon Iced Tea
If you're looking for a fun twist on sweet tea, try out this peach bourbon recipe by Chelsea Peachtree!
14) Keto Peach Cobbler Cake
If you're keto that doesn't mean you have to skip dessert! Check out this keto cobbler from This Moms Menu.
13) Old Fashioned Peach Dumplings
These peach dumplings by Down Redbud Drive are such a decadent dessert! Cinnamon, brown sugar, and peaches, doesn't get better than that!
12) Peach and Porchuitto Pizza Capresse
This is the perfect peach dinner recipe by Nourish! How yummy does this pizza look!
11) Easy Peach Chutney
This simple peach chutney recipe by Savory Spin is the perfect topping to your dishes!
10) Peach Upside Down Cake

If you have some leftover peaches, why not make this easy peach upside down cake by Kendell Kreations!
9) Vegan and Gluten Free Peach Cobbler In A Jar
Had to include a vegan and gluten free peach cobbler recipe in this round up and this one by Organically Addison looks amazing!
8) Easy Skillet Caramelized Peaches
These skillet caramelized peaches by Feeding Your Fam are the perfect easy Summer Dessert!
7) Banana Peach Smoothie
I love a good smoothie for breakfast and this banana peach one by Know Your Produce looks healthy and delicious!
6) 4 Ingredient Peach Chia Seed Pudding
I love chia seed pudding for breakfast and this peach one by Low Carb Quick is fresh and delicious!
5) Peach and Tomato Salad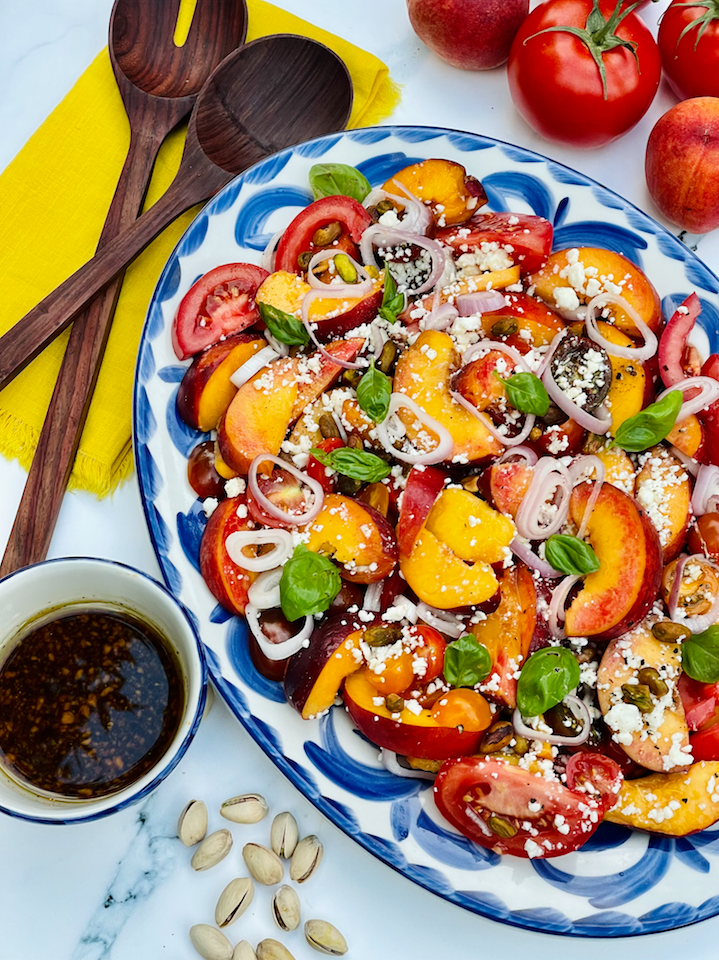 If you're looking for a fresh side salad why not try out this peach and tomato salad by Super Safeway!
4) Grilled Peaches With Honey Whipped Cream
If you're looking for a healthy dessert, these grilled peaches with honey and whipped cream by Gift Of Hospitality look yummy!
3) Peach Scones
I love a good scone for breakfast and these peach ones by Three Olives Branch look really tasty!
2) Honey Drizzled Grilled Peaches with Mascarpone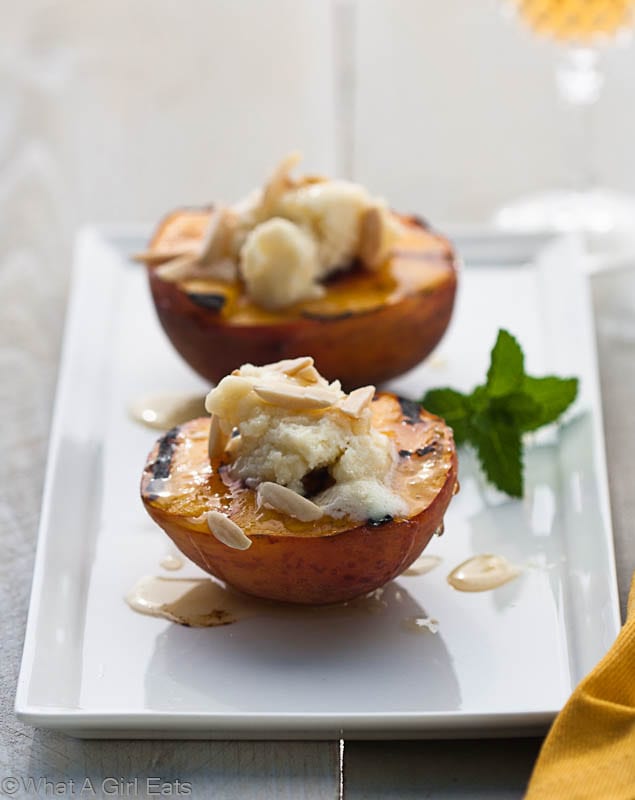 Okay this recipe by What A Girl Eats looks so good! I can't think of a better combination than peaches, honey and mascarpone!
1) Burrata Appetizers with Peaches and Pistachios
If you're looking for some easy appetizers for your next party, this recipe by Gift Of Hospitality is a great option!
I hope you liked all of these delicious peach recipes! Remember feel free to pin to save for later!
Read These Next!
50+ Cute Nails You Need To Try Now!
25 Dark Academia Fashion Brands You Need To Check Out!
PIN IT