Disclaimer: This blog post may contain affiliate links. If you click on one and make a purchase, I will make a small commission, at no extra cost to you. These are products I've personally used and stand behind, learn more.
As the festive season draws near, there's no better way to usher in the holiday cheer than with a collection of handcrafted Christmas cocktails that are sure to dazzle your taste buds and warm your spirits.
Whether you're hosting a festive gathering, cozying up by the fireplace, or simply looking to elevate your holiday celebrations, these carefully curated concoctions promise to add a touch of merriment to every sip.
From classic favorites with a yuletide twist to innovative creations that capture the essence of the season, join us on a journey through the best Christmas cocktails that will undoubtedly become the highlight of your holiday festivities.
Get ready to shake, stir, and toast to the most wonderful time of the year!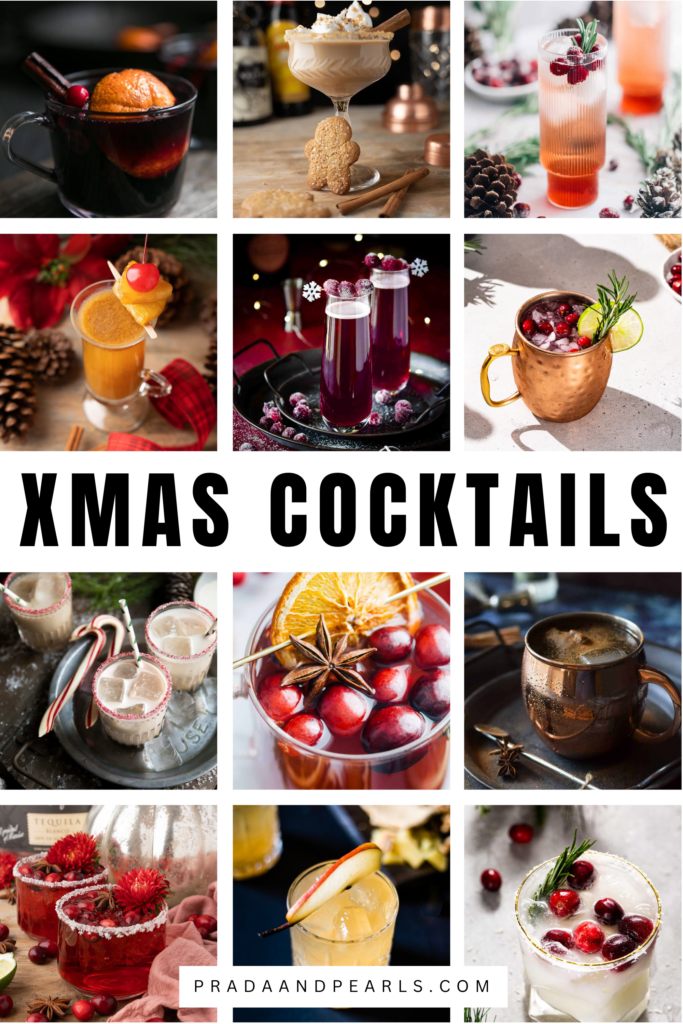 Looking for more Christmas Content?
Looking for more Christmas content this year? Check out our related posts here.
35+ Perfect Red and Green Christmas Nail Ideas
30+ Christmas Tray Ideas Perfect for the Holiday Season
45+ Best Red and White Christmas Nails
Tips for creating Tasty Cocktails
Quality Ingredients: Start with high-quality spirits and fresh, seasonal ingredients to ensure a rich and flavorful cocktail experience.
Garnishes Galore: Elevate the presentation by adding festive garnishes like cranberries, citrus twists, or cinnamon sticks. These not only enhance the visual appeal but also contribute to the overall flavor profile.
Chill Out: Make sure your ingredients, glassware, and even serving glasses are well-chilled. A cold cocktail is not only refreshing but also allows the flavors to meld seamlessly.
Experiment with Flavors: Embrace the holiday spirit by experimenting with seasonal flavors such as cinnamon, nutmeg, cloves, and ginger. These spices can add depth and warmth to your cocktails.
Simple Syrup Mastery: Consider making your own simple syrups infused with holiday flavors like peppermint or vanilla. This extra touch can take your cocktails to a whole new level.
Balance is Key: Pay attention to the balance of flavors – the sweetness, acidity, and bitterness. Adjust the ratios to suit your taste and ensure a harmonious blend of ingredients.
Glassware Selection: Choose appropriate glassware for each cocktail to enhance the drinking experience. Tall glasses for refreshing drinks, coupe glasses for elegant sips, and mugs for warm, cozy concoctions.
Signature Touch: Consider creating a signature Christmas cocktail for your gathering. It adds a personal touch and makes the event even more memorable.
Don't Forget the Mocktails: Cater to all your guests by offering non-alcoholic options. Festive mocktails can be just as delicious and enjoyable for those who prefer not to consume alcohol.
With these tips in mind, you're well on your way to concocting memorable Christmas cocktails that will leave a lasting impression on your guests. Cheers to a season filled with joy and exceptional libations!
As always, feel free to pin any of the images below to Pinterest to share with your friends, and bookmark this page to save for later!
The Best Christmas Cocktails You Need To Make This Year!
This easy White Christmas Margarita is a delicious and refreshing cocktail for celebrating the holiday season! Not only is it simple to make and beautiful to serve, but the flavor combination of tequila, lime and coconut is a winner.
Image and cocktail via Charming Cocktails
2) Festive Cranberry Aperol Spritz via The G and M Kitchen
This cocktail is so easy to make, has just three ingredients, and embodies the flavors of the Holidays!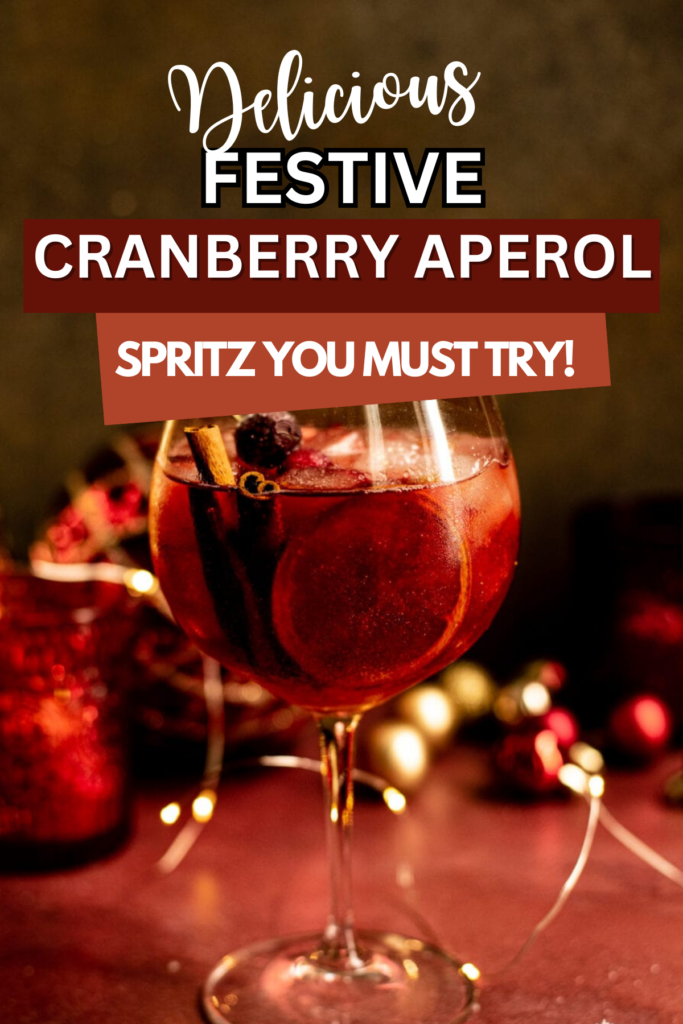 Image and cocktail recipe via The G and M Kitchen
3) Partridge in a Pear Tree Crown Royal Drink via The Delicious Spoon
This holiday cocktail which I like to call A Partridge In A Pear Tree is a refreshing holiday drink featuring Crown Royal and Pear Nectar. A perfect whiskey cocktail for the holiday season for sipping by a fire on a cold winter day.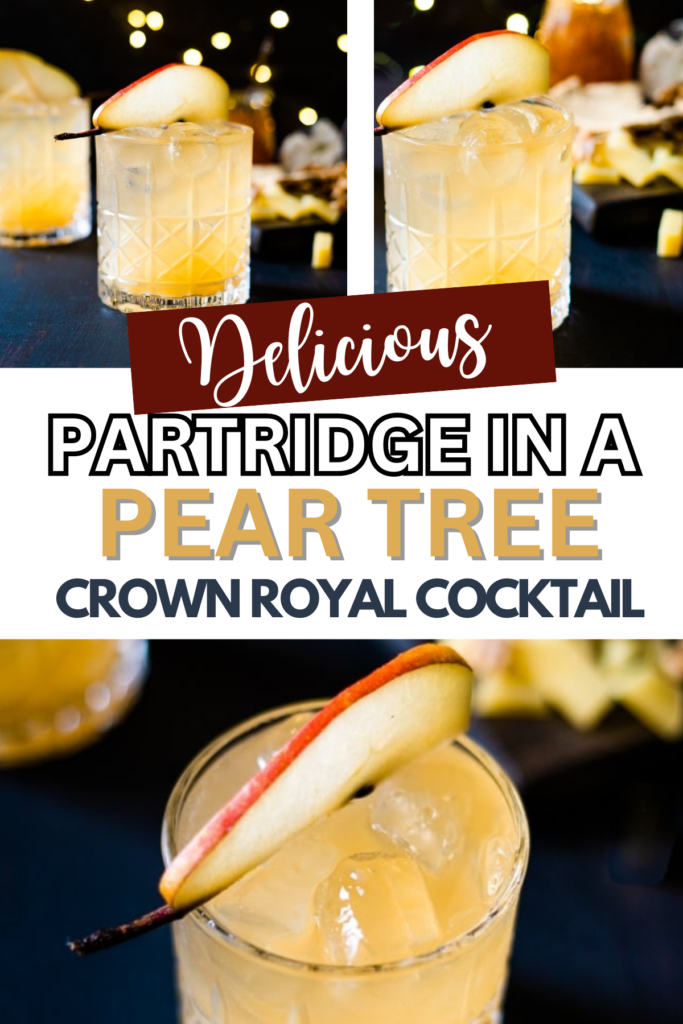 Image and cocktail via The Delicious Spoon
4) Chai Moscow Mule with Burnt Cinnamon via Brunch and Batter
This fall-inspired Chai Moscow Mule With Burnt Cinnamon is super easy to make by swapping out your traditional lime and adding chai concentrate. The burnt cinnamon adds a smoky spice to the finish reminiscent of a cool autumn night by the fire.
Image and cocktail recipe via Brunch and Batter
5) Cranberry and Chai Spiced Tea Hot Toddy via Emily Laurae
Made with tart cranberry juice, spiced black tea, a drizzle of sweet honey, and herbaceous dry gin, this delightful cocktail is just in time for your favorite winter festivities.
Image and cocktail via Emily Laurae
6) Holiday Peppermint White Russian via The Forked Spoon
Get festive this holiday season with this super easy Holiday Peppermint White Russian. Made with Kahlúa, Peppermint Schnapps and, of course, Vodka, this delicious cocktail will have everyone singing.
Image and cocktail recipe via The Forked Spoon
7) Winter Holiday Gin and Tonic via Emily Laurae
This ruby red Winter Holiday Gin & Tonic Cranberry Cocktail is a glass full of good tidings, perfect for all your get-togethers!!
Image and cocktail recipe via Emily Laurae
If you're looking for a twist on a classic cocktail to spice up your holiday parties and spread some holiday cheer, look no further than the Christmas Mule. This festive cocktail is a tasty twist on a traditional Moscow Mule cocktail recipe. With ginger beer, cranberry, lime and vodka, it's so easy to make and sure to be a holiday hit.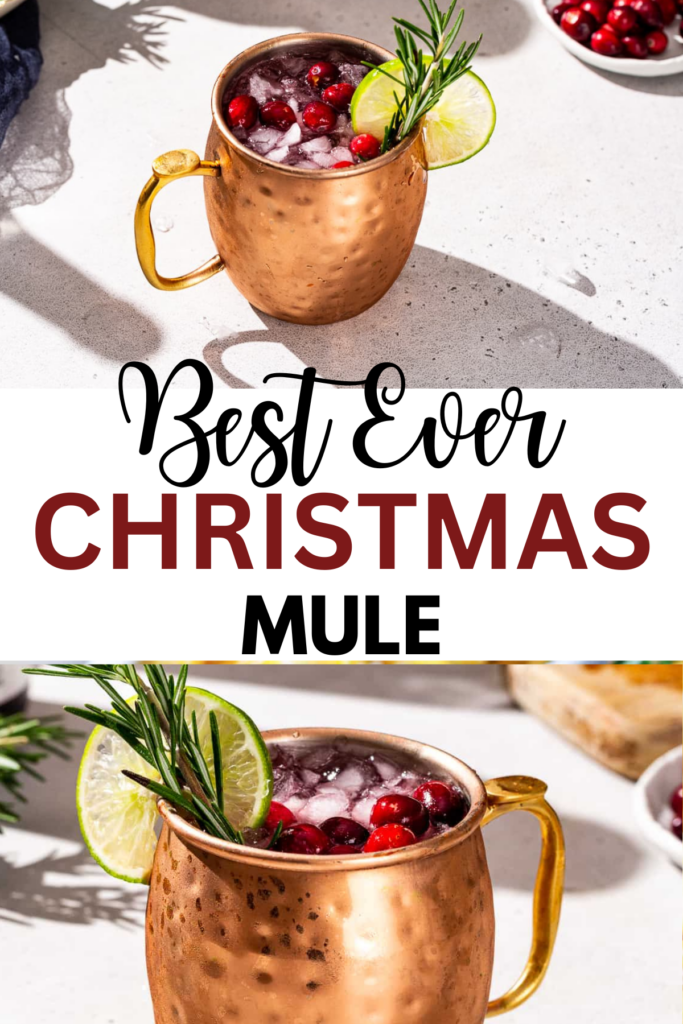 Image and cocktail via Charming Cocktails
9) Sugared Cranberry Christmas Mimosa via Bruch and Batter
Christmas morning is not complete unless there is a little sparkle. This sugared cranberry Christmas mimosa is an easy cocktail that dazzles and impresses. A perfect toast to start the day!
Image and cocktail via Bruch and Batter
10) Warm Spiked Apple Cider via The Herbeevore
This warm spiced apple cider recipe is one of the BEST holiday cocktail recipes around. This sweet cinnamon drink is a perfect nightcap or after-dinner drink. A fantastic beverage to warm you up after being out in the snow.
Image and cocktail recipe via The Herbeevore
11) Spiced Pineapple Hot Buttered Rum via xoxo Bella
Spiced pineapple hot buttered rum makes a mouth-watering drink. Whether you're preparing it as a holiday cocktail or you just want a fall and winter treat, this hot spiced rum toddy is sure to hit the spot.
Image and cocktail via xoxo Bella
Easy Holiday Punch – a simple and delicious holiday drink that can be made into a mocktail or a cocktail!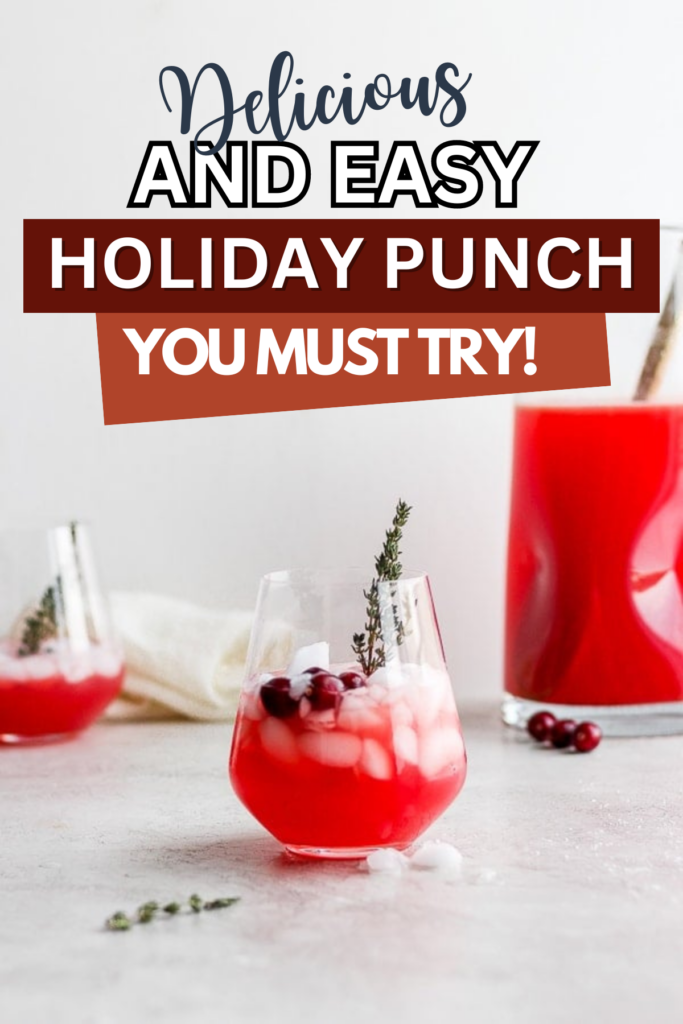 Image and recipe via The Wooden Skillet
13) Gingerbread Latte Dessert Rum Cocktail via xoxo Bella
When it comes to spiced rum Christmas cocktails, some stand out for all the right reasons. This gingerbread spiced rum mixed drink is perfect for this time of year, so celebrate the holiday season by sipping this amazing drink!
Image and recipe via xoxo Bella
14) Rosemary, Cranberry, Vodka Spritzer via Emily Laurae
If you've been on the hunt for a festive Christmas cocktail this holiday season, look no further than this refreshing Rosemary Cranberry Vodka Spritzer. Lightly sweet and delectably effervescent, this refreshing adult beverage pairs beautifully with all your festive fare.
Image and cocktail recipe via Emily Laurae
Mulled Wine is a traditional holiday drink made with red wine, brandy, and mulling spices like cloves, star anise, and cinnamon. It's delicious, cozy, and guaranteed to warm you from the inside out.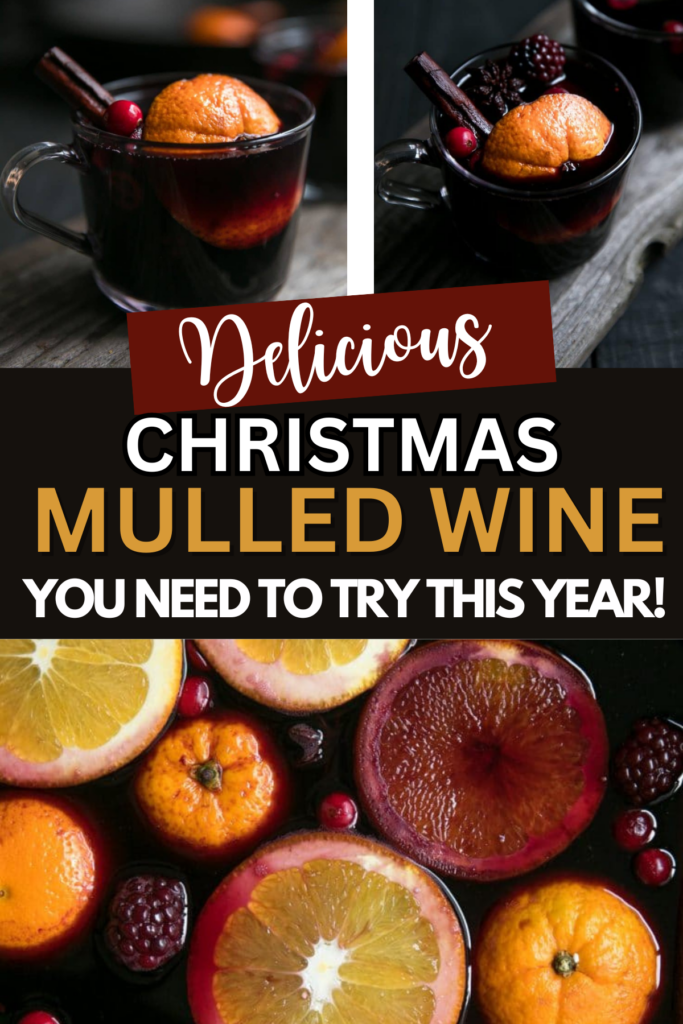 Image and cocktail recipe via The Forked Spoon
16) Festive Cranberry Margarita via xoxo Bella
Boasting silver tequila and triple sec, lime juice, grenadine, and more, this holiday margarita recipe blends the tart flavour of lime and cranberries with sweet grenadine. Cranberry margarita is a wonderful choice and it's so easy to make as well.
Image and recipe via xoxo Bella
We hope you loved all of these thanksgiving side dishes that are perfect for the entire family!
Hosting thanksgiving dinner can be overwhelming, however with these tasty sides, you're sure to please even the toughest critics!
We hope this brings joy and some tasty bites to your Thanksgiving dinner table this year.
Read these next!
Loved this article on the best Christmas Cocktails? Read these ones next!
40+ Brown and White Nail Designs You Need To Try!