Are you looking for a dreamy, calming wallpaper background for your phone? Why not try out one of our gorgeous aesthetic cloud wallpaper ideas this year! Below we have a wonderful collection of whimsical cloud images that will look perfect as your new background.
Clouds are so calming. They're one of those images that always looks so whimsical and fun. Personally, I change my phone wallpaper frequently, depending on my mood and also what season it is. With that said however, I always find myself returning to clouds, and I'm sure I'm not alone!
I know first hand that finding a new wallpaper can be challenging. There's so many different styles out there to choose from! That's why we wanted to round up our absolute favourite cloud images that are completely free to use.
Why pick aesthetic cloud wallpaper as you background?
The average person looks at their phone up to 100 times in one day! That's why it's important to choose a background that you really love and brings you joy.
Clouds can work as a wallpaper no matter what season we're in! They're extremely calming, which is important if you tend of have stress throughout your day.
Clouds come in all different sizes, colors and shapes, which you'll see below. They have a dream like aspect to them that can help evoke optimism and creativity! They also have strong ties to religion and spirituality throughout human history, making them a universal symbol.
There are so many fun designs to choose from when it comes to clouds! If you want a more dark and moody vibe, pick storm clouds. If you looking for happy, light and airy, pick a cleaner aesthetic. We have all that and everything in between rounded up below.
How to download the wallpaper
To Download the Wallpaper:
1) On Your Phone
If you're currently using your phone and would like to save this wallpaper. Press and hold until you see "add to photos" click and that will save the image to your camera roll. Next, go to settings and change your background to the image you saved.
Your phone allows you to set different images for your lock screen and background therefore feel free to try a couple of different wallpapers out!
Tip: Depending on the phone you have and the size of your screen, the images might look different. To save your time, it might be worthwhile to save a couple of images all at once, so that you can try them out and see what one looks the best.
2) Desktop
Right click on the image and save to either your desktop or a designated folder. Next crop to desired size!
50+ Amazing Aesthetic Cloud Wallpaper Ideas for your Phone!
All of these images are free to use and save for personal use. They are not available for commercial use, therefore please use accordingly.
Feel free to pin any of the images below to Pinterest so you can share with your friends! Also make sure to bookmark this page so you can save it for later and try out different wallpapers in the future.
Rainbow Sky
How gorgeous is this cloud wallpaper. The rainbow tones make it so unique and bright! I can only image seeing a sunset like this in real life. Having this as your background and seeing it everyday is sure to lift your mood!
Hints of Glitter
We could all use a little sparkle more in our lives. These clouds have such a clean and bright aesthetic that are really pretty! The sparkles add a little touch of magic to your day.
Only Pink Skies Ahead!
Only pink skies ahead! I wish we could have a pink sky ever once in a while. It's perfect paired with these fluffy white clouds. If you want to put as many clouds on your screen as you can, this is the perfect wallpaper for you!
Pink Ombre
I love pink wallpaper. Whether it's clouds or not, I always find myself gravitating towards pink! This ombre effect is so gorgeous and really makes the wallpaper pop! Also I can't help but noticing these clouds look exactly like cotton candy.
Colourful Haze
This colourful haze is so dreamy!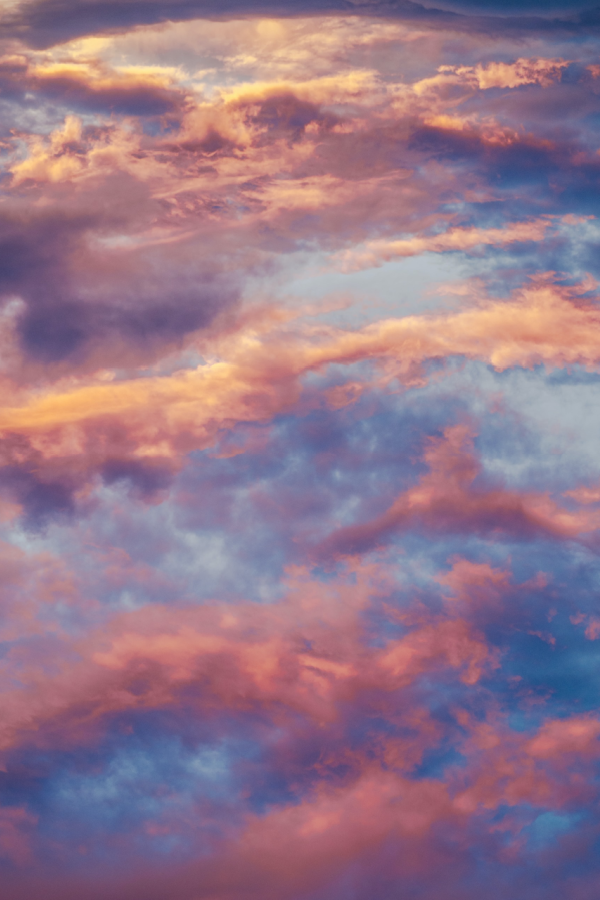 Pink Moon
I love being able to see the moon before the sun completely goes down! It just feels like such a magical time of day. This wallpaper really stands out with the fuchsia pink clouds!

Purple Haze
Love this shade of purple, this wallpaper has such a calming effect to it with the purple tones and the moon!
Dark Purple Skies
If you want a more dramatic and moody background this might be the wallpaper for you! We're loving the shading in this image and the use of different purple tones. It has a dream like aspect to it.
Pink Dream
This ombre moon is so pretty! The clouds are also really light and airy giving this wallpaper a tranquil vibe that would be really nice as your background image.

Purple X Blue
I love this color combination, it's just so gorgeous to look at. The blues and the purples really compliment each other in this picture giving it a really gentle and calming affect.
Over the rainbow
This wallpaper reminds me of the song "somewhere over the rainbow'. Rainbows always brighten any day and remind us that even if it's been pouring rain for a long time something as beautiful as a rainbow can come out of it.
Beaming
How stunning are these beams of light! This wallpaper makes me feel so hopeful for the day to come!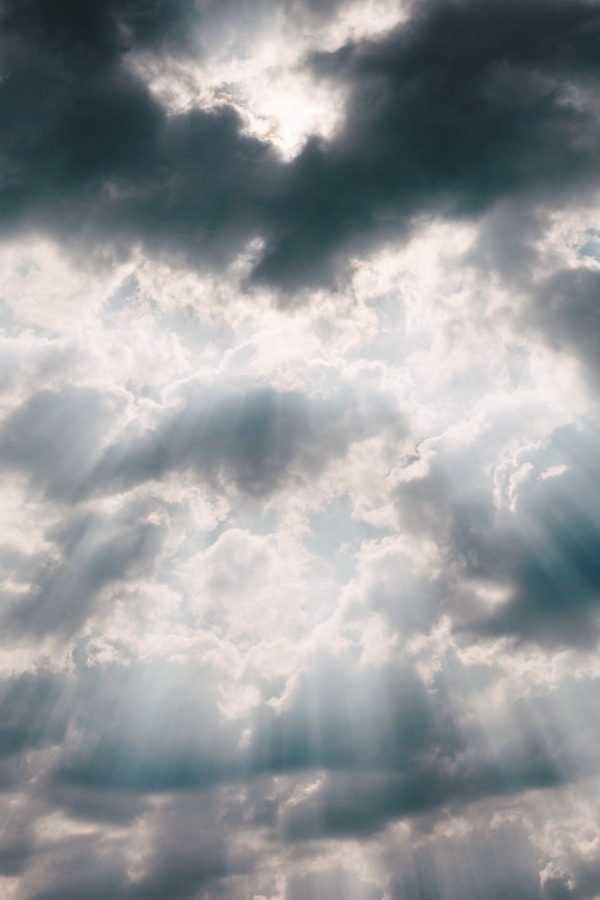 Ombre dreams
These clouds remind me of cotton candy. From the density to the color, its such a fun image! If you want something that's bright and cheery this wallpaper might be for you!
Vacation Ready!
If you're a Jetsetter or just really like pink (like me) this is such a cute wallpaper to use as your background!
Vintage blue
I love how this wallpaper has a bit of a vintage feel to it. It also reminds me of vacationing, the way you see a sunset on a beach sometimes.
Pink Cloudy Birds
This image is a beauty, with the birds, the pink clouds and the sun hitting it just right, its so picturesque!
Flying above it all
This image reminds me of seeing a gorgeous sunset from a plane window. The way the sun is hitting the clouds, it's so magical. Also this image has a lot of different cloud shapes that you can get lost in.

Dark Haze
This is definitely one of the more dramatic images in the list. It looks like there's a storm rolling in after a sunset. I love the color contrast between the dark skies and the orange hues.

Pink Cloudy Palm Trees
Sign me up for this sunset! Palm, trees, blue skies and pink clouds, what more could you need! If you're going on vacation and want to get excited or if you're dreaming of your next trip, this could be the perfect wallpaper for you!
Abstract Skies
These clouds have such an abstract feel to them! The color combination is so pretty as well with the pink and blue together.
Above it all
The ombre colouring on this dense cloudy sky is so pretty! It's such a unique ombre that only get from a really strong sunset!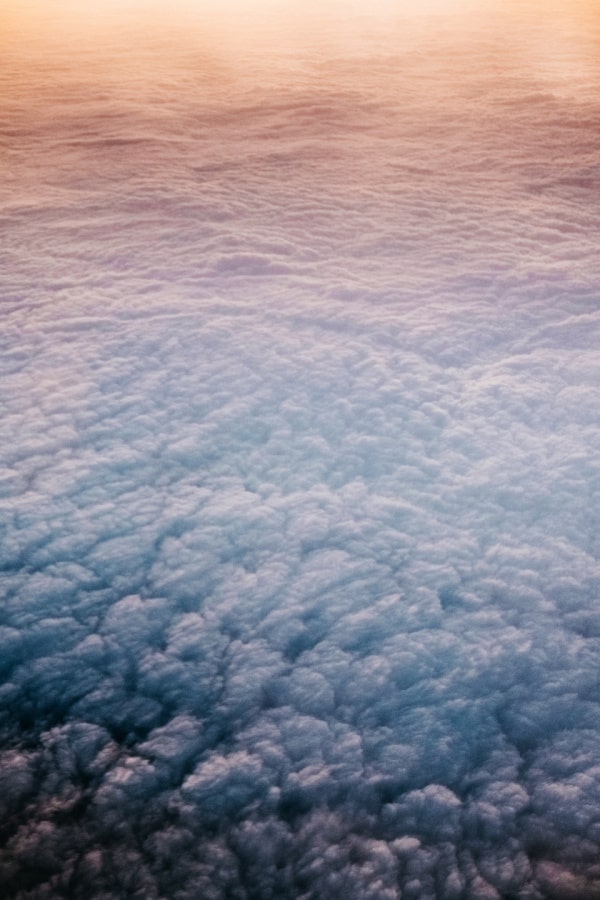 Hopeful skies
This image is so hopeful! We're loving of clean and bright this image is. If you're looking for a wallpaper that brightens your day and is calming to look at, this one is a must!
Sparkle clouds
If you want to add a little sparkle to your background, look no further! All of the stars against the sky make this background have a twinkle aspect to it.
Pink X Purple Skies
Purple and pink is always a pretty color combination, you can't really go wrong! This image is more abstract compared to the others, you could edit this image by putting your favourite quote over it.
The Perfect day
This is the perfect sky is my opinion! Bright blue, with large fluffy clouds that are lit up by the sun! If you want an image to brighten your mood, this is it.
Smokey Skies
These clouds almost have a smooky aspect to them. Looks like you lit the sky on fire. The red and grey really compliment each other and help the clouds stand out.
California Dreamin'
Who wouldn't want this as their background? It screams warmer weather and vacations! Sometimes when it's really rainy out or if it's the middle of winter, I like changing my wallpaper to something like this to lift my spirits!
Moody Clouds
The sun is about to go down in this wallpaper and the clouds are giving of a dark moody vibe.
Pink Lightening Clouds
I wish all lightning storms were pink!
Starry Palms
This image is a dream. From the blurry clouds and palm tree to the beautiful stars, this wallpaper is so pretty.
Perfect Blues
Simple yet dreamy with the shades of blue, the stars and the light whispy clouds.
Perfect Ombre
If you're looking for a wallpaper that's bright and will energize you, check this one out! With the ombre orange and pink clouds it really makes a statement.
Purple Dreamin'
One of my personal favourites in this list, these clouds are just so whimsical. I also tend to pick purple wallpapers so that might by why I love this one so much!
Beach Sunset
With the sunset, the palm tree, the water and of course the clouds this looks like paradise.
Blue Moon
The moon is just peaking out through the clouds in this image. The orange and blue is such a pretty color combination and really makes the clouds pop against the blue sky.
Baby Pink Clouds
This aesthetic cloud wallpaper evokes total happiness! Pink on pink is always a great ideas for a background image and the clouds look just like cotton candy.
Moody Blue Clouds
We're loving the combination of dark and light in this image, it really helps define the cloud shapes!
Purple Storm
A storms brewing in this image and makes for such an interesting cloud formation! From the deep shades of purple the lavender and lilac hues its such a stunning picture.
Peachy Perfect
These peach clouds are so perfect! They're so fluffy and and big! They would be so fun to fly through on an airplane.
Idyllic Rays
This wallpaper gives off a lot of hope. With the sun rays hitting the cloud and the water, it's such a calming image to have as your background.
Purple Rainbow
This ombre is so cute with its pink, purple and blue hues!
Cloudy Water
I wish I could go for a swim at this beach. This is the perfect sunset with the fluffy peach clouds and bright skies.
Purple Cloud Dreaming
These fluffy purple clouds are so dreamy! The sunset is also so light and calm.
Lazy Sunset
These peaceful clouds are the perfect color. This wallpaper is really soothing with its lighter colors and hazy clouds.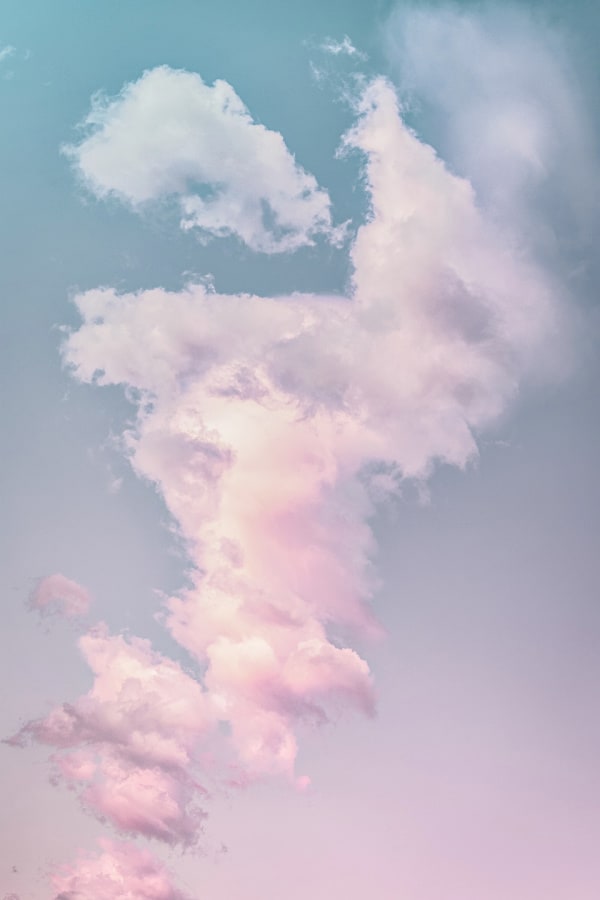 Pink Sunrise
The shades of purples and pinks in this wallpaper are to beautiful! There's so much dimension.
Pink Rainbow
Had to include a rainbow in this post! It's so pretty against the pink clouds and the darker skies.
Hazy Sunset
My dream sunset! These lavender whips clouds against the bright skies are just so stunning.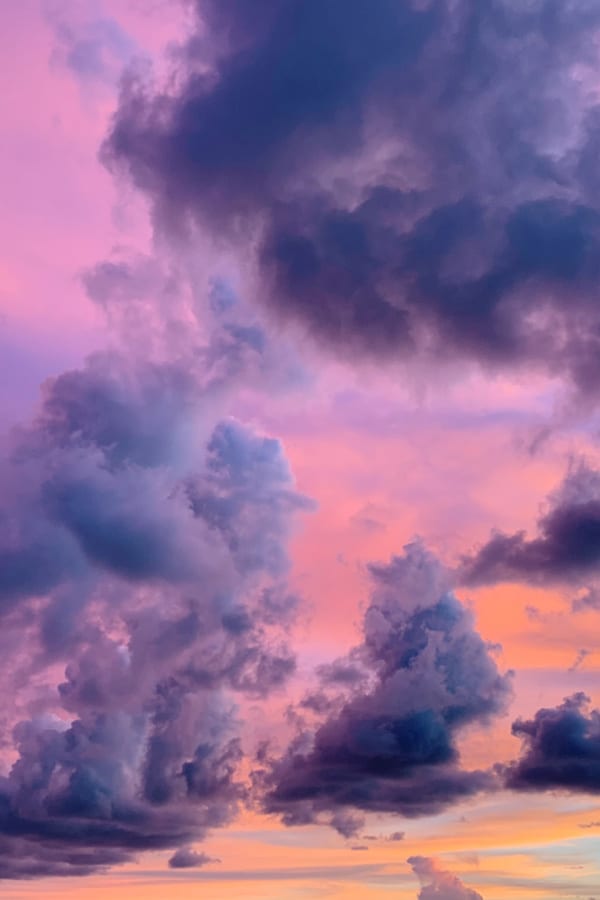 Sunset dreams
Sunset goals! The orange sky paired with the purple clouds gives this wallpaper an optimistic feeling.
Rainbow Haze
Sometimes clouds can be hazy which gives such a cool effect! We're loving these hazy lines.

Vintage Clouds
The grainy effect on this photo really gives these clouds an awesome vintage vibe.
Cotton Candy Sunrise
My three favourite colors, pink, blue and purple! It's always so gorgeous especial with clouds in the mix.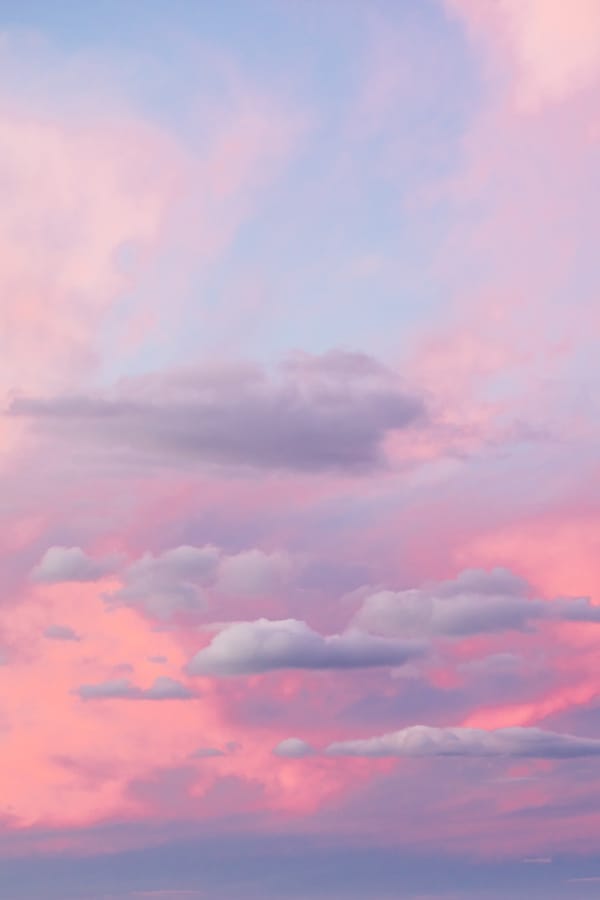 Hot Pink Stars
This image almost doesn't look real with the hot pink clouds and the stars!
Vacation clouds
This aesthetic cloud wallpaper gives off that feeling when you're on vacation and everything is going right! The pink and yellow is such a happy color combination.
Orange Haze
This orange haze is so pretty against the dark blue sky. This wallpaper has a golden hour hue to it.
Airplane views
Daytime airplane views! It's so cool to see all the different types of clouds in the sky!

50) Starry Clouds
Clouds and stars give off such magic! It literally looks like you just spilled glitter all over the night sky.
In the Rainbow
How stunning are these clouds! They have all the colors of the rainbow and with the birds and the plane flying across, this image is a vibe.
Bright Pink Skies
If you're a fan of pink you'll love this wallpaper! These clouds are the pinkest on the list!
Dreamy Sky
You could day dream all day staring that this image on your phone.
Shades of purple
We're loving the texture of the clouds in this wallpaper! The shades of purple really give it dimension.
Flying on a rainbow
Whimsical puffy clouds with a stunning sunset, what more could you want!
Heart Cloud
We could all use some extra love in our lives and this heart cloud is so cute!
Skies on fire
This aesthetic cloud wallpaper looks like we lit the sky on fire! There are so many stunning shades of red in these clouds that I can't stop looking at!
Hopeful Sunrise
This image is so picturesque. With the sun coming up from the clouds and illuminating the world! If you find your days are pretty stressful this would be the perfect background for you since it evokes so much calm and light.
Dark Purples
There's so much to look at in this image! The tones of the clouds make this wallpaper so three dimensional. You really feel like your on top of the world looking at this one!
Fluffy Pink
These fluffy pink clouds are perfect for a dreamy phone background! Bubblegum pink might be my new favourite color!
Don't Worry, Be Happy
Sometimes we need a little reminder throughout our day! Don't worry be happy! If you set this as your wallpaper, you can't help but feel content!
Rays of Light
Remember when everything feels dark, look for the light. This wallpaper, with the grainy feel, is seriously a mood.
Tropical Mood
If you're feeling like you want a more tropical wallpaper this one's so unique! Storm clouds rolling into paradise, it's a vibe.
Monochrome Skies
If you like a more classy wallpaper, try out this monochrome sky. The black and white really offset each other to make the cloud formations really defined.
Cloud Shapes
This aesthetic cloud wallpaper reminds me of laying in the grass as a kid and looking up and the sky to see what shapes I could find! Most of the time they just look like big fluffy blobs but sometimes you could spot an animal!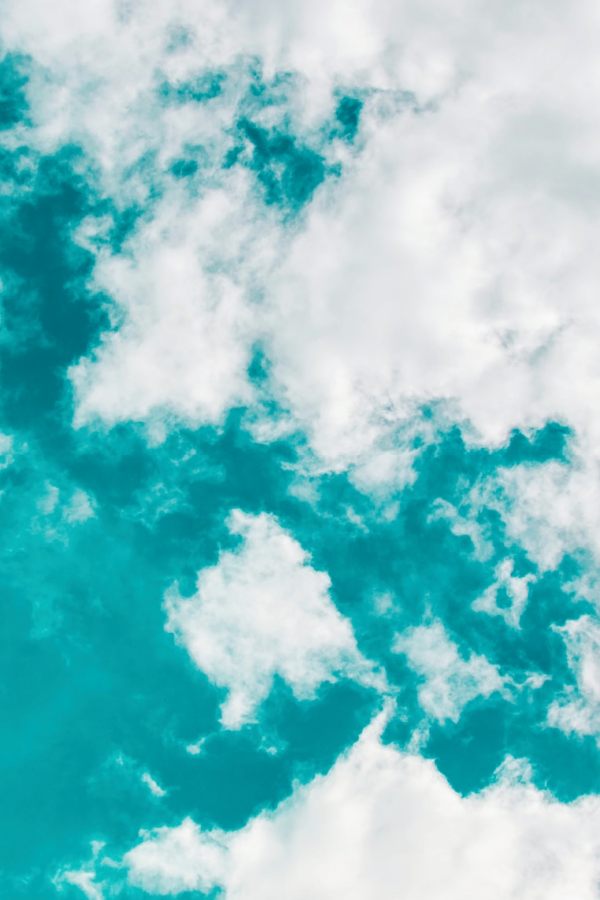 Angel Skies
These clouds are perfect, light airy and fluffy! This sort of wallpaper leans into the clean girl aesthetic with it's minimalistic vibes and bright tones.
Beach Daydream
If you like day dreaming about the perfect day at the beach, this is the wallpaper for you! How fluffy and perfect are these clouds!?
Dreamy Rainbow
If you're looking for a more subtle background that's still dreamy and colourful, this is a really cute option! Rainbows are so beautiful and bring so much joy.
Stardust
This subtle wallpaper has a hint of magic with the stars and some hazy clouds that really bring on the calm vibes. It's perfect for someone looking to relax.
All the Glitter
Sometimes your day needs to be brightened by a lot of glitter! That's what this wallpaper is for! Such a pretty design that'll add a little sparkle to your day.
High above it all
Whenever I get onto a plane I always feel like I'm entering into a new world! It's always such a different perspective from above and has a surreal quality to it. These clouds like so stunning from above along with the sunset!
Pink Fog
These fluffy pink clouds are what dreams are made of, they are so beautiful! Sometimes simpler backgrounds are the best type since they won't be distracting.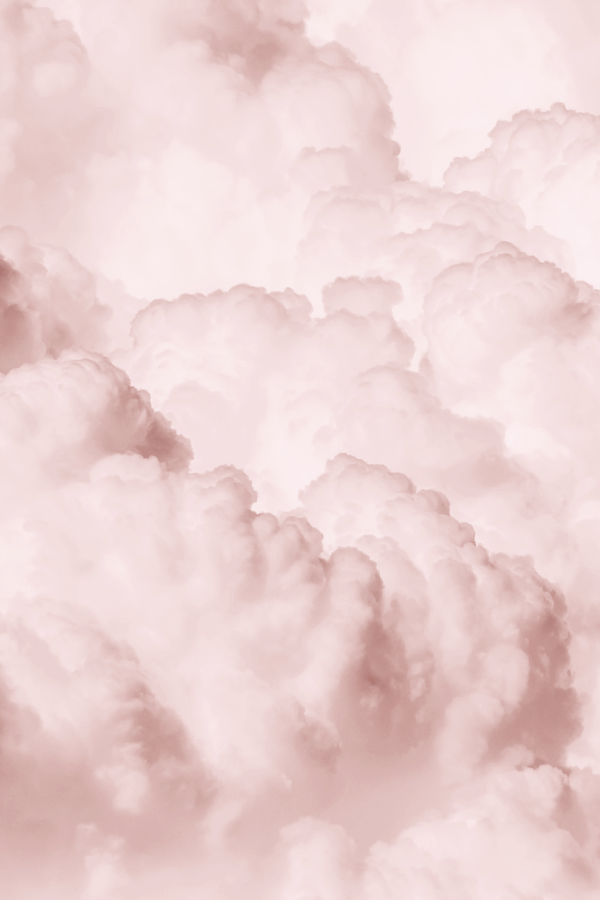 Tranquil
This image is so tranquil! There's something about the whispy clouds and the light colors that are just really relaxing and dreamy. If you're looking for something more muted but also pretty this is a great wallpaper.
Golden Clouds
The perfect golden hour clouds! The way the sun is hitting this cloud set is so beautiful. The shades of white and cream look so pretty against the blue sky.
We hope you enjoyed all of these stunning aesthetic cloud wallpaper ideas! There are so many different images to choose from that would look wonderful as your background! Clouds provide such calming images that are sure to help lift your spirits throughout the day.
Feel free to let us know favourites in the comments below! Also Pin any of the images to Pinterest or bookmark this page so you can continue to try new ones out!
If you're running into issues saving the images check out our instructions above.
Other Wallpaper Posts
Loved this aesthetic cloud wallpaper post? Are you looking for more unique wallpapers to use on your phone? We have a wide collection! Check out our recent ones here:
50+ Free Light Academia Wallpaper Aesthetic For Your Phone!
Stunning Sunset Aesthetic Wallpaper For Your Phone!
50+ Free Black Aesthetic Wallpaper For Your Phone!
Gorgeous Cottagecore Aesthetic Wallpapers For Your Phone!
30+ Free Cute Pink Wallpaper Aesthetic for your Phone!
Rose Aesthetic Wallpaper for your Phone!
25+ Fun Neon Wallpaper For Your Phone!
Sign up for my weekly newsletter!
Want fashion/beauty tips and tricks, special discount codes and more right to your inbox!? Sign up for my newsletter here!
What's New on Youtube
I have a YouTube channel! New videos go up weekly. Check out my Fall Old Navy Haul Under $40 over now!